After trying to rescue her dog that was struck by a car, a woman was struck by a second car in a street in Brooklyn; both drivers left the scene of the accident without stopping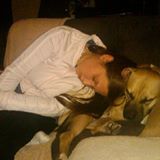 A woman who ran in the street in Brooklyn to try to save her dog that had been run over by a car was struck by another car. The dog died and the 31 year old woman is in critical condition. Both drivers fled and the police are still looking for them.
Kristin Rendina was walking her two dogs when one of them was hit by a car that didn't stop on W. Second St. near Avenue Z in Gravesend. She ran from the sidewalk to kneel by the dog and was struck by a black Jeep Wrangler driving on Avenue Z whose driver fled the scene.
Read more in the NY Daily News
Picture: Facebook