Multiple car accidents leading to one death and multiple injuries, caused by icy rain in New York and tri-state area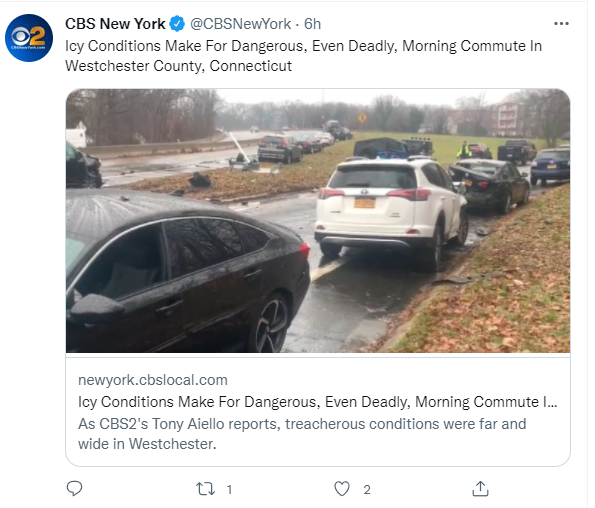 Freezing rain caused dozens of car accidents around New York City and in the tri-state area on Wednesday morning. While accidents resulted mostly in pile ups and damages to cars at least one man died and multiple people were injured.
Driver who exited from his car fatally hit by other car sliding on ice
The fatal car accident occurred on a ramp connecting the eastbound Cross Country Parkway to the northbound Bronx River Parkway in Mount Vernon.  After multiple vehicles collided on the ramp due to icy conditions, a man whose vehicle was stopped, got out of his car and was fatally hit by another vehicle that slid on the ice. The passenger of the same vehicle attempted CPR on him and so did the emergency personnel at the scene but the man could not be saved.
TLC Driver loses control of his vehicle on icy patch and struck other car critically injuring the driver
A man was transported to the hospital in critical condition after his car was hit by a TLC driver on an icy patch on the Jackie Robinson Parkway in Queens. Several cars had previously lost control in the same are just before the accident.
Several people were also injured in a massive pileup involving 24 vehicles on the northbound Hutchinson River Parkway near Boston Road in Pelham  and multiple accidents were also reported in New York City, on the Goethals bridge and on the Staten Island Expressway.
New Jersey had multiple pileups as well.  A bus transporting 8 students and an aid slid off the road and sideswiped a pole in Hackensack. Thankfully nobody was injured. Multiple other roads were closed in New Jersey and Connecticut.
Multiple delays were also reported at Laguardia and Newark airports as the weather conditions prompted a ground stop.
Read more in the NY Post