New York Traffic Accident Prevention: New Edition of Sustainable Streets Index shows impressive reduction in crashes that injure people in New York City
Traffic fatalities recorded during the last five years are at the lowest level ever recorded in New York City according to the recently released 2012 edition of "Sustainable Streets Index".
In 2008, The New York City Department of Transportation launched a strategic plan called "Sustainable Streets" with the objective of improving traffic condtitions and increasing street safety with a special focus on pedestrians. The yearly publication of the Sustainable Street Index provides an overview of the efforts undertaken by The New York City DOT over the last year and measures their effect on traffic conditions and street safety.
Some of the projects completed in 2013 significantly reduced personal injuries related to crashes and improved traffic conditions. Among them it is worth mentioning:
The creation of a new pedestrian island and various traffic modifications at the intersection of Seventh Avenue and W. 23rd Street in Manhattan, contributed to a 61% decrease in crashes with injury and a more fluid traffic with delays down 25% for this area
The implementation of traffic calming measures requested by the community on Slosson Avenue and Todt Hill Road in Staten Island led to a 55% decline of accidents related to speeding
Crashes with pedestrian injury decreased by 30% in Downtown Flushing after the DOT increased sidewalk space
Additional crosswalks and bike connections as well as pedestrian safety islands and a new traffic signal have contribute to 19% of reduction of all crashes with injury including 25% of reduction of crashes with injury to vehicle occupants and 17% of reduction of crashes with injury to pedestrians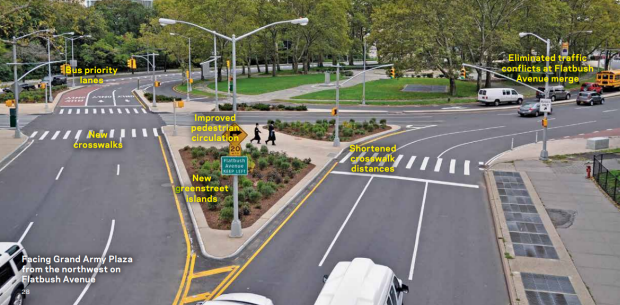 Traffic improvments at Gand Army Plaza
–