Since the beginning of the year the number of people injured in traffic accidents gradually declined in New York City … Are the recent traffic calming measures implemented by Bloomberg and de Blasio more helpful in reducing injuries than deaths?
Personal injuries related to traffic accidents in NYC gradually declined so far this year compared to last year while deaths related to traffic accidents were mostly stable as analyzed in our previous blog. Pedestrian injuries have significantly decreased over the summer while bicycle accident injuries stayed stable.
The graph below shows the total number of people injured in traffic crashes over a 3 month period with numbers for 2013 in blue and numbers for 2014 in red.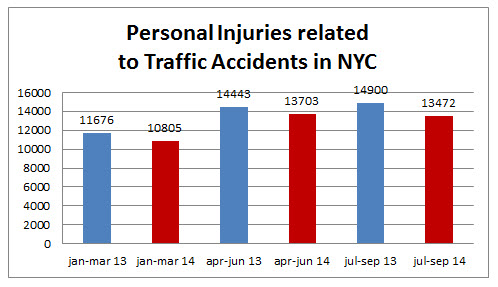 Pedestrians injuries are following the same gradual trend. The number of pedestrian injuries slightly decreased at the end of the winter and during the spring of 2014 compared to the same periods of 2013. The decline continued over the summer and the total number of pedestrian injuries over a 3 month period was below 2300 for the first time during the two years under review.
Cyclist injuries are always higher during the warm season. When comparing each season of 2014 with the similar season of 2013, bicycle accident injuries were mostly stable over the spring and summer after a significant decline at the end of the winter. The little decrease recorded over the spring was compensated by a little increase over the summer.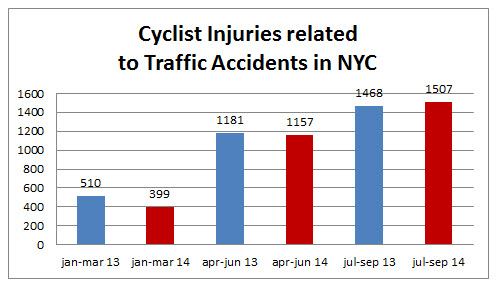 A gradual decline was also observed in passenger motorist injuries.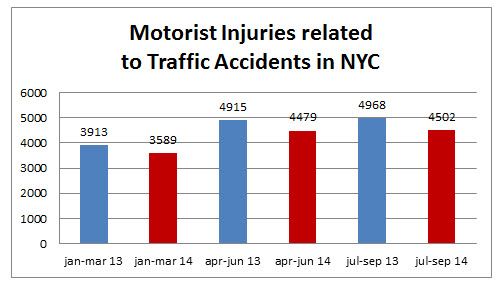 Data Source : NYPD Motor Vehicle Collision Reports