The Vision Zero Action Plan 2014 to reduce death and personal injury related to traffic accidents in New York was presented yesterday by Mayor Bill de Blasio
4000 New Yorkers suffer severe personal injury and 250 are killed every year in traffic accidents and to Bill de Blasio this is unacceptable. Yesterday afternoon the Mayor of New York presented "Vision Zero Action Plan" the first report produced by a multi agency task force that the mayor created last month. (See previous blog) .
Vision Zero has proven to be a successful program throughout different cities of the world because its multi faceted approach brings together government, advocacy and private sector actors as well as the public to become part of the solution. In a similar fashion, yesterday's action plan contains proposed actions by the City, the Police Department, the Department of Transportation, the Taxi & Limousine Commission, the Department of Citywide Administrative Services and the Department of Health and Mental Hygiene.
Some of the most interesting recommendations include
– elevate careless driving to a criminal offense – reduce the city speed limit to 25 mph – increase speed enforcement – investigation of all crashes with critical injuries – street redesign including the creation of 25 new arterial slow zones – Taxi and Limo enforcement squad – Equip taxi limo and city vehicle fleet with technology that record speed and dangerous driving behavior
The complete Vision Zero Action Plan can be found here. It is an excellent document that indicates that the new New York mayor is strongly committed to reduce traffic deaths and personal injuries.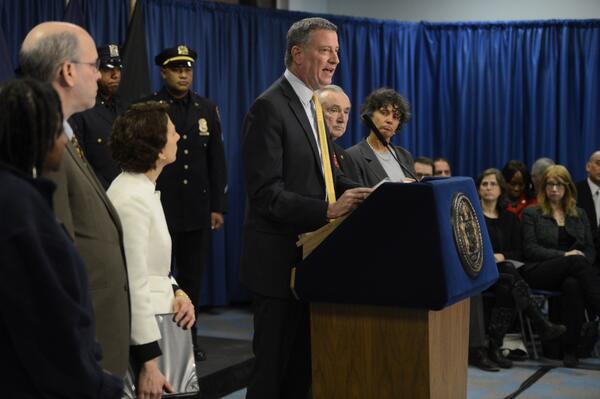 Photo: NYC Mayor's Office