11 of our New York Personal Injury Lawyers named Super Lawyers and 2 of them named Rising Stars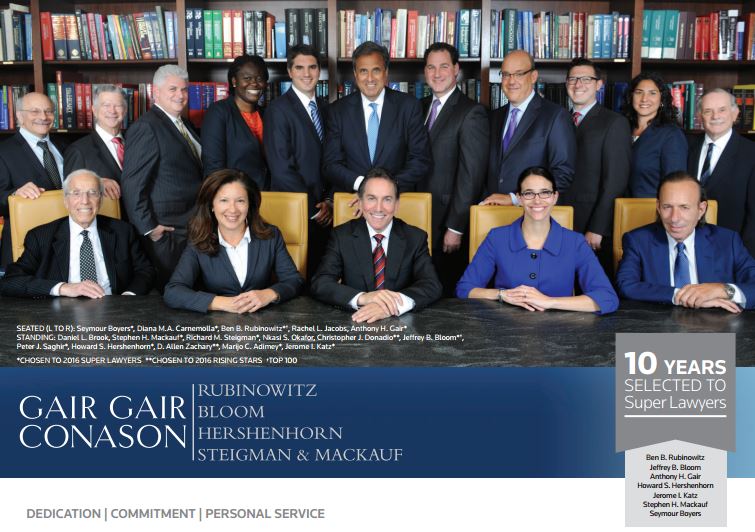 Our NY personal injury law firm is proud to announce that 11 of our attorneys have been named Super Lawyers. These top NYC personal injury attorneys are:  Ben B. Rubinowitz, Anthony H. Gair, Howard S. Hershenhorn, Jeffrey B. Bloom, Richard M. Steigman, Jerome I. Katz, Stephen H. Mackauf, Marijo C. Adimey, Diana M.A. Carnemolla, Peter J. Saghir and Seymour Boyers.  Additionally  one of our youngest attorneys, Christopher A. Donadio,  were selected to the Super Lawyer Rising Stars list.
7 of these talented lawyers have been selected for 11 consecutive years: Jeff, Seymour, Anthony, Howard, Jerome, Stephen and Ben are all senior partners at the firm and have accumulated invaluable  experience in the field of personal injury litigation. Richard has been  elected a Super Lawyer  five times.
Additionally Ben and Jeff were both listed in the Super Lawyers top 100  New York -Metro.
No other personal injury law firm in New York City enjoys the privilege of having so many attorneys recognized by Super Lawyers every year. Since its creation by Harry A. Gair, over 90 years ago Gair, Gair, Conason, Rubinowitz, Bloom, Hershenhorn, Steigman & Mackauf  has built its reputation on its dedication, sensitivity and commitment to personal services. Our attorneys have earned a national reputation as "counsel to the profession".
Many of the catastrophic personal injury cases we are specializing in are referred to us by other attorneys seeking the best representation for their clients. For example, last year Nathan Dershowitz, an attorney at the New York law firm Dershowitz, Eiger & Adelson trusted our firm to obtain compensation for the death of his wife Marilyn Dershowitz, a retired Manhattan Supreme Court special referee who was fatally struck by a postal truck while riding her bike with her husband.
Recently our firm also  settled the Joan Rivers medical malpractice case for a substantial but confidential amount. The firm has also obtained some of the top verdicts and settlements in New york for serious personal injury cases related to traffic accidents, many of them involving pedestrians and cyclists who have been struck by cars, buses trucks or other motor vehicles. We also specialize in medical malpractice, construction accidents and product liability cases among others.