3 dead and 7 injured in train accident in Long Island, NY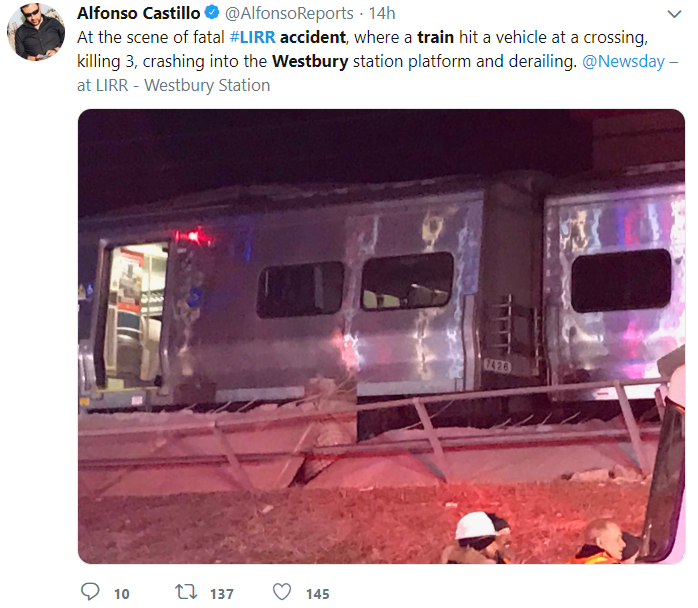 3 people died and 7 were injured after a vehicle collided with two trains travelling in opposite directionsa in Long Island, NY.
The train accident occurred Tuesday night during rush hour at a railroad crossing near the Long Island Rail Road Westbury Station in Nassau County, NY. As the gates were down and the lights were flashing, the driver of the vehicle involved in the accident was witnessed driving around the gates to cross the railroad tracks. As he was in the middle of the railroad crossing, the vehicle was struck by a train that had just left the Westbury station and was heading East. The vehicle was then hit a second time by another train arriving at full speed in the opposite direction. The impact caused the two first cars of the westbound train to derail while the last car of the eastbound train struck a platform and partially destroyed it. The 3 occupants of the vehicle all died in the accident. So far the vehicle was so mangled that it was difficult to identify who were the victims and what type of vehicle it was. After further investigation the police found that the victims were 3 workers of a grocery store located a block away from the crossing: dairy manager Jesus Hernandez, and meat department workers Saul Martinez and Miguel Luna. According to a witness the men travelling in a maroon SUV might have been involved in a fender bender moments earlier and were trying to  flee the scene of the accident.
7 other people who were travelling on the westbound train were also injured. They were transported to the hospital to be treated for non fatal injuries. Around 1000 people had to be evacuated from both trains and heavy delays were expected as crews had to work on two train derailments and assess damages to the tracks and to the platform.
The Westbury railroad crossing has a history of accidents
Over the last 40 years, it is the fifth time that an accident occured at this specific railroad crossing.  Another accident also involved a collision between a train and another vehicle. The 3 other cases involved a person walking or standing in the crossing and being hit by a train.
According to the Long Island Railroad website, a modernization project plans to replace the railroad crossing with a "two-way grade separated underpass".