4 people died and 63 suffered personal injury in a train accident that happened this morning in New York
A New York Metro-North train derailed this morning. 4 people died in the accident and 63 suffered personal injury including 11 critical injuries and 6 serious injuries.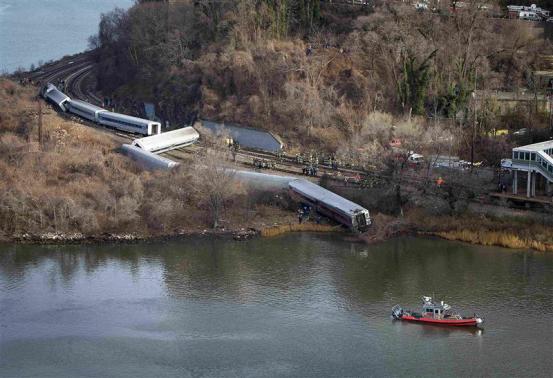 PHOTO CREDIT: REUTERS/CARLO ALLEGRI
The derailment happened in the Bronx where the Hudson and Harlem rivers meet. It is a dangerous area as the rails make a sharp curve. A previous accident happened at this location when last July 10 cars of a CSX freight train carrying trash derailed.
"That is a dangerous area on the track just by design," Governor Andrew Cuomo told CNN after touring the site. "The trains are going about 70 miles per hour coming down the straight part of the track. They slow to about 30 miles per hour to make that sharp curve … where the Hudson River meets the Harlem River and that is a difficult area of the track."
A passenger told the media that the train was riding at a much faster speed than usual. The black box will reveal the train's speed as well as possible mechanical issues and whether the brakes were applied.
The National Transportation Safety Board says it has sent a "Go Team" to the site. According to the NTSB website, "the purpose of the Safety Board Go Team is simple and effective: Begin the investigation of a major accident at the accident scene, as quickly as possible, assembling the broad spectrum of technical expertise that is needed to solve complex transportation safety problems".