52 people killed so far in fire accidents in New York City in 2018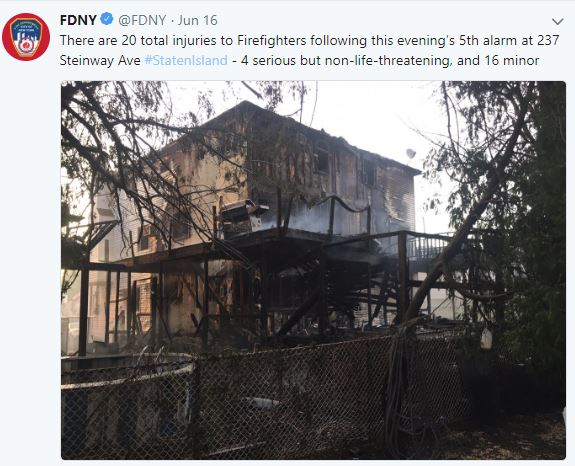 Two elderly women died in separate fire accidents in Queens on Monday. The first accident occurred early morning Monday around 2:10 am in the Rockaways, Queens. A fire caused by careless smoking quickly spread through the 15th floor of  a high rise apartment located at 7-11 Seagirt Ave. There was no smoke alarm in the house. The 71 year old woman who was living in the apartment died in the fire.
Later on during the day another fire caused by an electrical  extension killed 82 year old Audrey Hebling. The woman was found unconscious in the kitchen of her house located at 252nd Street between 87th Road and 87th Drive in Bellrose Manor. Again there was no smoke alarm in the house.
Last week-end the FDNY also had to battle a massive blaze in Staten Island during which 20 of them got injured, including 4 seriously.  The fire that destroyed several properties on Steinway Ave was sparked by a kid who was playing with a lighter.
Carelessness when smoking, electrical fires, candles and cooking are the main causes of fire accidents in the City. Many lost their live in accidents that were preventable. Additionally too many homes do not have smoke alarms. It's the law in the city for any building to have proprely working smoke and CO2 alarms.
50 people died in fire accidents in New York City during the first 5 months of 2017. This is the highest number of fire deaths recorded in the City over that period of time in more than a decade. With most deaths occurring in private homes where the FDNY can't legally inspect for code compliance, Daniel Negro, the City's fire commissioner and Stephen Ruzow, chairman of the FDNY Foundation expressed their concern in a recent opinion in the NY Daily News.
Despite prevention campaigns, distribution of smoke alarms and other aggressive public safety efforts, accidental residential fire fatalities  in New York City are on the rise this year.
Picture source: @FDNY Twitter