5 young people suffered personal injury in two motorcycle accidents in Queens, NYC
Two men in their 20s riding on a bike were seriously injured after they were hit by a car in Astoria, Queens on Tuesday night around 7:00 am. Then early Wednesday around 5:00 am, a motorcycle collided with a car at the intersection of Union Turnpike and Woodhaven Blvd in Queens. The 31 year old man operating the motorcycle was rushed to the hospital in critical condition. The passenger, a 20 year old woman, as well as the car driver, a 26 year old man also suffered personal injury but were in stable condition.
As the spring is coming in New York, motorcycle enthusiasts are back on the road. Unfortunately this also means that motorcycle accidents are on the rise in the city. Last year in May there were 250 motorcycle accidents in the city during the month of May compared to 216 in April and 82 in February.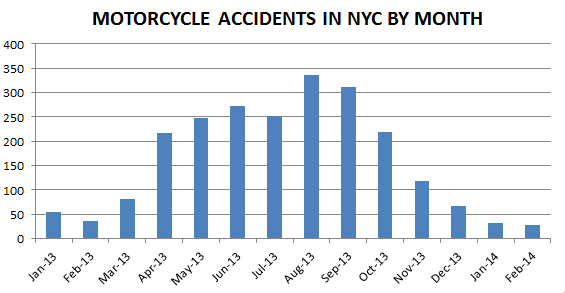 Because motorcycles offer very little protection when a crash occurs, motorcycle operators are 35 times more likely to die on the road than car passengers with head injury being the leading cause of death in motorcycle accidents.
According to the most recent New York State DMV statistics, in 2012, 57% of motorcycle accidents involved one or more other vehicles. Collisions between a motorcycle and another vehicle such as a truck, van, SUV or car often happen because motorists fail to see motorcycles. Most motorcycle accidents involving another vehicle happen during unsafe lane changes and left hand turns in front of a bike.
In the other 43 % of motorcycle accidents that did not involve another vehicle, alcohol and speed were often a factor contributing to the accident.