$8 Million Settlement In Wrongful Death Drunk Driver Case
$8 Million Settlement In Wrongful Death Case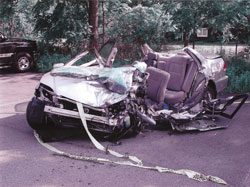 In July, 2007 a drunk driver took the life of a 23 year old woman. That woman was the mother of a 4 year old child. That child's life was forever changed by the reckless and negligent conduct and actions of the drunk driver. Although the child's life will never be the same – – the family of that young child sought expert representation from highly skilled lawyers to prosecute a civil claim for the wrongful death of the mother and to protect the interests and rights of her little child.
This past week Ben Rubinowitz and Diana Carnemolla successfully resolved this claim after more than 3 years of litigation for one of the highest awards ever for this type of case – – 8 million dollars. The claim stemmed from the reckless and negligent actions of a drunk driver when he drove drunk and collided head-on with a car driven by a 23 year old woman. The mother was killed in the accident but her young child, who was a belted back seat passenger in her car, survived.
The claim was brought under a number of legal theories which included the Wrongful Death of a mother, her Conscious Pain and Suffering for the few minutes that she lived following the impact, the Zone of Danger Damages suffered by both this mother/driver before she died and the Zone of Danger Damages suffered by the young child in witnessing her mother's death.
"This was a horrible tragedy of unimaginable proportions" said Ben Rubinowitz who also explained that "while no amount of money can ever compensate a young child for the loss of her mother, we know that the law does provide for compensation in this instance, as it should. Our goal was to maximize the recovery for this young child." Diana Carnemolla, who worked tirelessly in prosecuting this case with Rubinowitz stated, "This is the largest award ever made for this type of claim. Although we are terribly saddened by the loss of a young child's mother, we are delighted that we were able to secure this large award to provide for this child's future."
Both Rubinowitz and Carnemolla are partners of Gair, Gair, Conason, Rubinowitz, Bloom, Hershenhorn, Steigman & Mackauf, a firm that specializes in all aspects of Personal Injury Claims including Wrongful Death, Drunk Driving accidents, Car, Bus and Train accidents, construction accidents, Premises accidents, Civil Rights violations, Products Liability cases and Medical Malpractice cases.