City breaks ground on the second part of a project aimed at reducing pedestrian and bicycle accidents at Fordham Plaza, one of the busiest and most dangerous transit hubs in NYC
The number of pedestrian and bicycle accidents at Fordham Plaza should decrease significantly by next fall as Bronx Borough President Ruben Diaz Jr. and Department of Transportation Commissioner Polly Trottenberg joined community leaders yesterday to break ground on a plan to completely redesign Fordham Plaza.
Fordham Plaza is one of the busiest transit hubs in the city with the third busiest Metro North Station, 12 bus lines and two schools serving thousands of students. According to the DOT the foot traffic at Fordham Plaza is equivalent to the foot traffic at Herald Square or Penn Station with approximately 80,000 pedestrians over 12 hours. The actual configuration of the Plaza has caused hundreds of pedestrians and cyclists to be injured in traffic accidents over the years. The intersection between Fordham Road and Webster Ave is considered the third most dangerous intersection in the city.
To transform Fordham Plaza into a safe and vibrant place, the NYCDOT and the Economic Development Coprporation have developed plans (see pdf) for a major redesign that includes large public spaces, numerous safety improvements for pedestrians and a bike only street.
Read more in News 12 The Bronx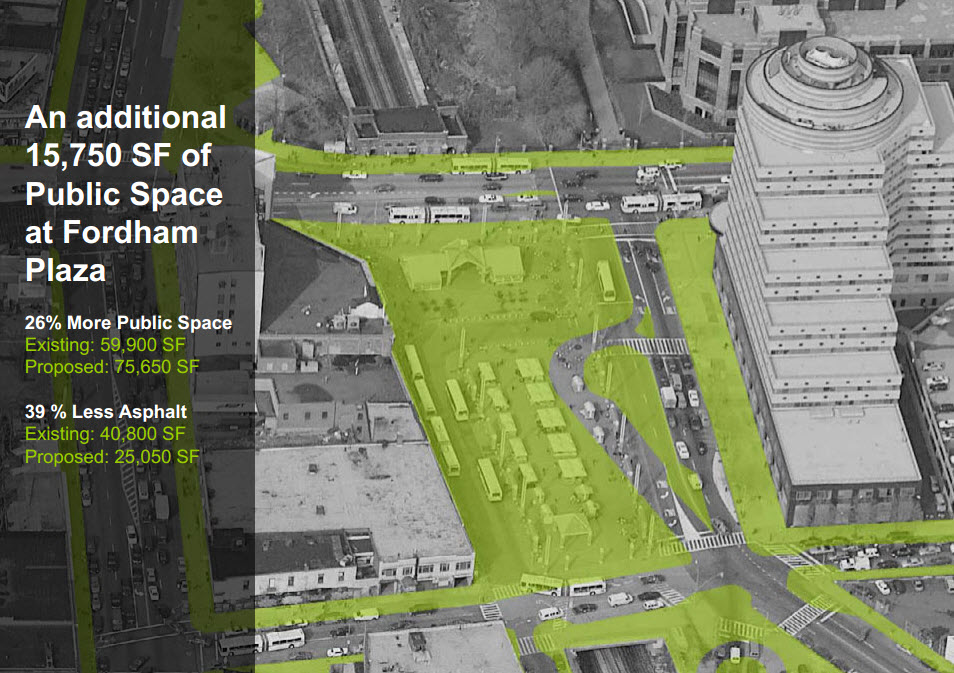 picture source: NYC GOV