Don't get injured with the #BirdBoxChallenge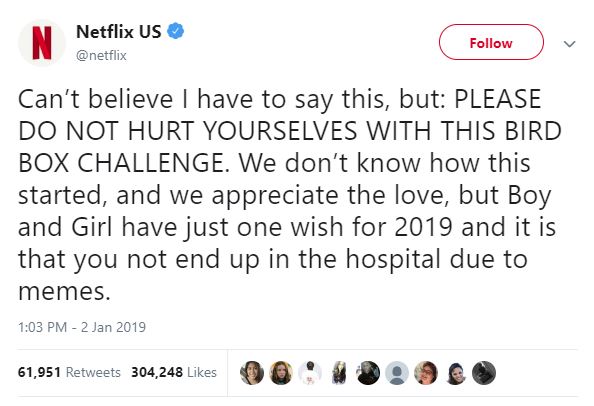 The new internet Bird Box Challenge can lead to serious injury. Named after a new Netflix horror movie starring Sandra Bullock during which the characters have to live their life blindfolded to avoid invisible creatures, the Bird Box Challenge has regular people and also many celebrities filming themselves doing all kinds of activities blindfolded.
While some keep it pretty much safe such as Michael Strahan from Good Morning America trying to put lipstick on Sara Haines while blindfolded, others like actors Jake Paul and George Janko even attempted to drive blindfolded during a 24h challenge. Some parents have been involving their children and some choking videos emerged of  children bumping into the walls or destroying furniture.
The challenge became so popular that Netflix had to issue a warning asking people not to put their life in danger for this challenge.
Blinfold games are not new but with social media, the #birdboxchallenge is taking things to a whole new and dangerous level with people trying crazy stunts for internet fame.  While previous internet challenges such as the Tide Pod Challenge could lead to death or very dangerous poisoning, there are indeed many safe ways to have fun with this challenge without too much risk. Just be responsible, don't hurt others, especially don't drive blindfolded and avoid blindfolding toddlers or very young children!
DISABILITY SIMULATIONS HAVE OTHER NEGATIVE EFFECTS
While some might believe that being blindfolded for a short period of time might be a good way to understand what it means to be really blind, Arielle Silverman a disability researcher who  has been blind since birth warns that people might feel that blindness is a much more debilitating condition that what it really is. People practicing the challenge underestimate the capabilities of blind people to adapt to the world. In a recent article Silverman explained how as a young researcher she herself studied blindness simulations. Her students felt so confused and distraught by the experiment that Silverman realized that simulations reinforce the gap between people with and without disability instead of promoting empathy and understanding.