Early diagnosis is key to successfully fighting breast cancer
Failure to diagnose breast cancer at an early stage or delay in treating breast cancer early can have deadly consequences. Early detection of the disease through regular screening such as mammogram is essential for every woman over 40 year old. According to Cancer.net, women who are diagnosed when the cancer is located only in the breast have an almost 100% chance to survive for at least 5 years. If the cancer is detected after it spread to the regional lymph nodes, the 5 year-survival rate is 85%. A woman diagnosed with breast cancer that spread to another part of her body has a 26% chance to survive more than 5 years.
Statistics also indicate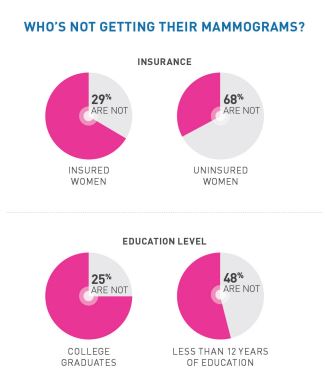 that only 61% of breast cancers are diagnosed at an early stage. Unfortunately, despite campaigns such as the Breast Cancer Awareness Month that ended Yesterday,  too many women over 40 years old are still not getting regular mammogram.  29% of women who have health insurance and should be screened are still not doing it. Among women who do not have health insurance, as many as 68% of them are not getting mammograms. Not having an insurance is not an excuse for not getting regular mammograms. In every city, charitable organizations offer free screenings for women who can't afford to pay for them. In New York our firm is sponsoring free mammography vans through the Judges and Lawyers Breast Cancer Alert.
FAILURE TO DIAGNOSE BREAST CANCER CAN BE MEDICAL MALPRACTICE
Despite  breast imaging technology getting more and more sophisticated, misdiagnosis of breast cancer is still common medical malpractice. Doctors failing to order proper tests such as biopsies, radiologists misreading breast studes or pathologists misreading the slide are all common medical errors leading to a delay in breast cancer diagnosis.  Our partner, New York medical malpractice attorney Jeff Bloom has represented  and continues to represent many patients whose breast cancer was misdiagnosed. Years of experience in this field have helped Jeff become one of the most sought after attorneys in New York for cancer misdiagnosis. Jeff is also recognized by the medical community as an expert in medico-legal issues related to breast cancer diagnosis. Every year he is invited to speak among a panel of top international experts  at the at the "Mount Sinai Update: Breast Imaging Conference".