High risk of train accidents on New York City Commuter Railroads
63% of all train accidents reported by the top 10 US  Commuter Railroads in 2016 occurred in New York City suburbs. The New Jersey Transit logged 21 of them (35%), the Long Island Rail Road 10 (17%) and Metro-North 7 (11%). These numbers were released at the beginning of the month by the  Federal Railroad Administration.
Most human caused train accidents logged by the 10 biggest US Commuter Railroads in 2016  also occurred on The 3 New York Commuter Railroads. Of a total of 33 train accidents caused by human error, 67% occurred in New York suburbs, with 40% of them occurring on the New Jersey Transit.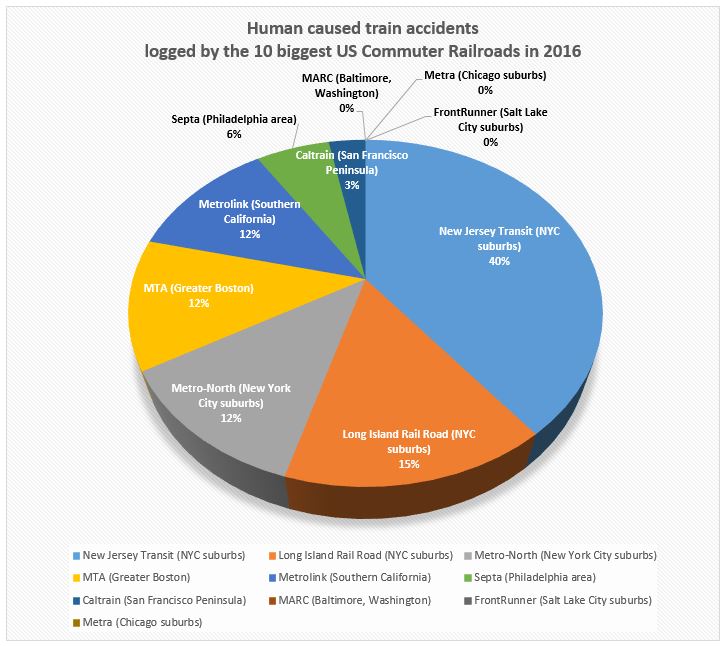 The New Jersey Transit (NJT) which reported 21 train accidents last year represented alone 35% of all the accidents.  The NJT, the third biggest transportation system in the US has been struggling with finance for years. Funds that were supposed to be invested in large development projects were used for day to day operations. As a result, commuters were charged higher fares for overcrowded trains that often suffer delays.
Among the 21 accidents logged by NJT, one of them was fatal.  On September 29 2016, Fabiola Bittar de Kroon was killed at the Hoboken station by a train that entered the station at high speed and jumped onto the platform.  More than 100 people were also injured in the accident. Investigators found that the train engineer was suffering from undiagnosed sleep apnea and had fallen asleep before entering the station.
NJT still hasn't installed "positive train control technology" on its trains. The agency was supposed to have installed this technology at the end of 2015. After complaining to the Congress that funds were missing to complete the installation on time, NJT was granted a waiver from the December 2015 installation deadline. The new deadline is December 2018. If such technology had been installed by the initial deadline the worst may have been prevented.
The Long Island Rail Road (LIRR) which is also the largest American passenger-train service recorded the second highest number of accidents last year.It was half the number recorded by NJT.  Metro North recorded the 4th highest number of accidents among the top 10 US  Commuter Railroads in 2016. Both Metro North and LIRR were also granted a waiver until December 2018 to install "positive train control" on their trains.