How to reduce fatal construction accidents among roofers?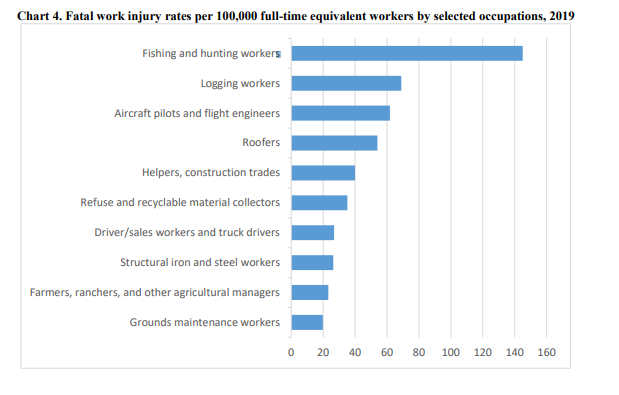 Roofers have one of the most dangerous occupations among all workers. Every year more than hundred of them are dying in fall accidents. According to the most recent statistics, among the 401 fall fatalities recorded in the construction industry in 2019, 146 of them were roofer fatalities. Roofers have the fourth highest fatal injury rate after fishing and hunting workers, logging workers and aircraft and flight engineers according to the National Census of Fatal Occupational Injuries (see graph on the left)
Many fatal falls could have been prevented if  roofers were using a personal fall arrest
In New York, employers are required by law to provide roofers with a personal fall arrest system that meets the requirements of the Occupational Safety and Health Administration (OSHA) and American National Standards Institute (ANSI Z359).  A personal fall arrest system consists of a full body harness, connectors and lanyards that will limit the fall distance by being attached to a fixed anchor. Under New York Law, roofers also have to take a determined amount of hours of training in order to learn how to use the equipment.
While almost half of the roofer fatalities in New York City occur from falls from 25 feet and above, it is estimated that another 34% of fall fatalities occur from falls from 15 to 20 feet and another 18% of them from 10 feet and below.
Some of the most common accidents occurring to roofers are accidents involving unsafe use of a ladder.  Workers should always be  facing the ladder when climbing it and maintain 3 points of contact at any time. It is also unsafe to carry when climbing or to move a ladder when someone is on it.  Using proper shoes to avoid slipping and make sure the equipment and the work area are in neat and good condition can also prevent roofing accidents and falls.  Additionally, roofers should always make sure to be well rested, well hydrated and avoid drugs and alcohol.
On July 29, the CPWR is organizing a free Fall Prevention in roofing webinar during which CPWR organizers will hold a discussion with the United Union of Roofers, Waterproofers, and Allied Workers on roofing fall fatalities prevention. Click here to register and for more info