Increased risk of NYC crashes related to speeding during Coronavirus crisis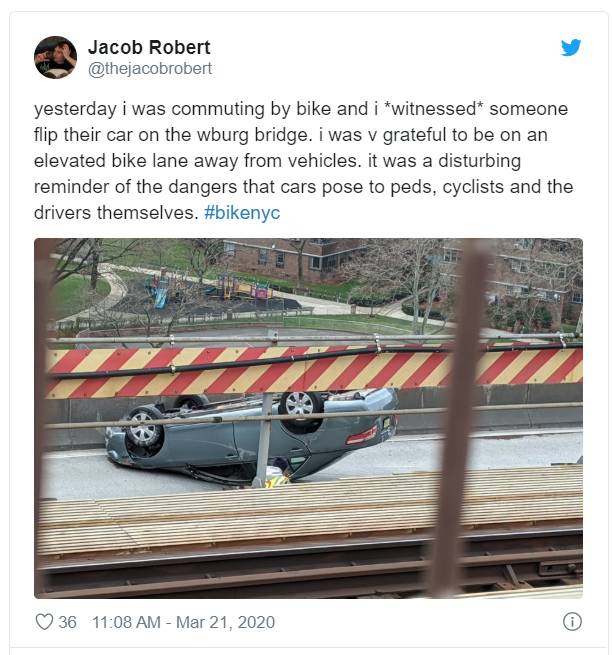 A few days ago a cyclist tweeted a disturbing picture of a
car crash
on the Williamsburg bridge.  We don't know if anybody was hurt in the accident but it definitely looked like the driver lost control of the vehicle because he was driving too fast.
Jacob Robert is among many New Yorkers who have been complaining on social media that they witnessed cars speeding on empty roads, considering them like freeways.
Speed cameras recorded the same number of  tickets than in January despite the decline in traffic
In a recent article Streetblog noticed that in a recent week of March the number of street camera tickets was as high as in January when the traffic was normal. New Yorkers who are still driving in the city seem to ignore speed limits.
In Staten Island, Councilman Steve Matteo (R-Mid-Island) sent a letter to the DOT to ask that school zone speed cameras be shutdown during the crisis. The councilman also asked the DOT to stop installing additional cameras during the crisis after a new camera was installed at the beginning  of the week on  Arthur Kill Road. Schools might be closed for classes however they are still serving meals and therefore there is still pedestrian activities around them. The DOT told councilman Matteo that speed cameras  would not be turned off during the crisis. While less cars and less pedestrians are in the streets, more New Yorkers decided to follow Mayor de Blasio's guideline to avoid public transportation and travel by bike instead.  Many new cyclists are on the road, sometimes not fully aware of the dangers of riding a bike in the city.  In a previous blog yesterday we reported that bicycle accidents were up by almost 50% in the city during the Corona virus crisis. As our hospitals are overwhelmed by the Corona virus patients, nobody wants to be there because they were injured in a car accident. Please drive safely.