Injuries and deaths related to collisions with trains, how to prevent them?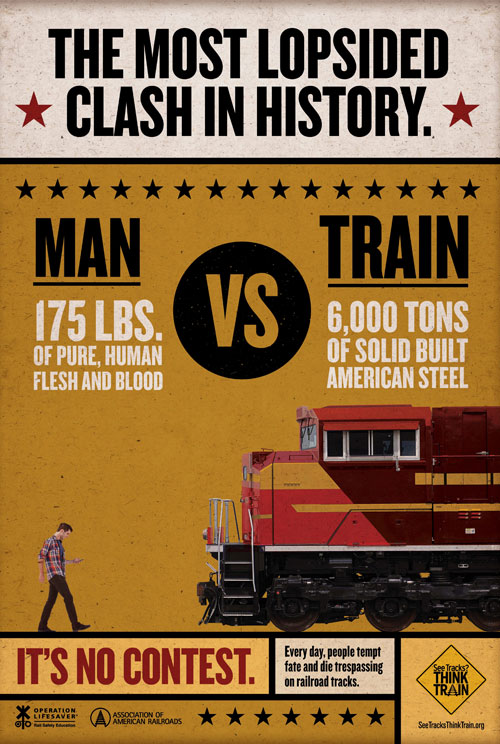 Did you know that 95% of fatal train accidents were caused by vehicles at train crossings and pedestrians on tracks? Every 3 hours in the US someone is hit by a train. Most of these accidents are preventable.
According to preliminary Federal Rail Road Administration Statistics, 262 people died and 871 were injured in 2,296 collisions with trains in 2018 in the US. 2,217 collisions occurred at highway-rail grade crossings. Pedestrian rail trespassing resulted in 1015 causalities (fatalities and injuries).  California and Texas have the most accidents  for both highway-rail grade crossings and trespassing.  New York ranked number 4 of  all states with the most pedestrian trespassing causalities. 36 people died and 13 were injured while trespassing on New York railroads in 2018.
Tips for New York Pedestrians to stay safe near railroads
Only cross rails at designated public crossing or roadway crossing, any other area is considered trespassing
Do not go in a rail yard unless invited by a railroad official
Never go on the tracks unless it is a public crossing. It can takes up to one mile to stop a train so even if the train operators see you, you may still be hit.
Do not stand to close to the tracks. Trains overhang the track by at least 3 feet. Sometimes loose straps extend even further.
If you are crossing the tracks just after a train went through make sure that another is not right behind the first one.
Tips for drivers to avoid collision with trains
Do not drive around lowered gates
Never stop on a highway railroad crossing as you may get trapped. If necessary stop before crossing to make sure the road ahead is clear.
If your vehicle is stuck on the rail, immediately get out of the car and call the number provided on the Emergency Notification System sign.
Never stop closer than 15 feet to a rail track
Always expect a train. Freight trains do not follow set schedules.
Tips for train passengers to avoid accidents
Stay alert around train tracks and in stations
Mind the train overhang and don't get to close to the platform hedge
Watch your step
Don't risk your life by crossing train tracks illegally
Picture: free Toolkit from "See Tracks Think Train" Campaign