Man dies in NYC Subway Accident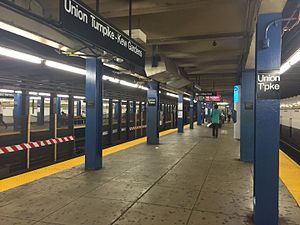 A commuter was killed after being dragged by a New York City Subway. The accident happened yesterday night at the Union Turnpike-Kew Gardens in Queens, NYC around 6:45 pm. The man was boarding the southbound F train when he got caught between the doors. The train then took off, dragging the man along the platform.  He was transported to the hospital where he later died. The New York Post reported the man may have been intoxicated. The police are investigating.
Door holding is something that New York Subway riders are practicing everyday but in this case a part of the man's clothes apparently got caught in the closed doors and the engineer may have in fact received a signal that the doors were closed.
Picture: the subway station where the accident happened, source Wikipedia