Marijo C. Adimey joins Gair Gair Conason Steigman Mackauf Bloom and Rubinowitz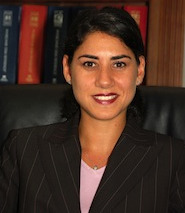 GGCSMB&R is pleased to announce that Marijo C. Adimey has joined our firm. Marijo began her legal career as an Assistant District Attorney in Bronx County, NY. For five years she prosecuted cases on behalf of numerous Bronx residents who were the victims of horrific crimes. This initial experience where she tried dozens of cases to verdict laid the ground work for her outstanding career as a trial lawyer. Following her tenure at the Bronx DA's office, Marijo transitioned to the civil representation of victims of medical malpractice and serious personal injury. She is recognized as an up and coming star in the area of plaintiff's medical malpractice. She was designated a Super Lawyers 2013 Rising Star. She is, and will be, a tremendous asset to our firm.
Click here to read Marijo's bio.