New York hospital violated HIPPA by allowing unauthorized filming of patients and agreed to pay $ 2.2 million penalty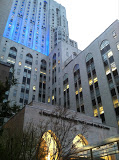 The New York Presbyterian Hospital / Weill Cornell Medical Center recently settled a 2.2 million lawsuit with the Department of Health and Human Services, Office for Civil Rights (OCR) for allowing a TV crew to film two patients without their consent (see press release).
In 2011 Mark Chanko was hit by a garbage truck and rushed to the New York Presbyterian Emergency Room. He was critically injured and doctors were unable to save his life. A crew of "NY Med", a reality show featuring DR Oz, was shooting in the Emergency Room when Mark Chanko arrived. The crew filmed nurses and doctors taking care of Mark Chanko as he was dying. The crew recorded footage of Chanko asking about his wife and also doctors comments about the dying patient. When the show was aired a year later on ABC the face of the patient was blurred and his voice was muffled.  Mark Chanko's wife, Anita saw the show and recognized her husband despite the blur on his face and the changes in his voice. Anita Chanko was in  shock. She heard her husband ask the doctors "Does my wife know I'm here?' and then she saw him dying before her eyes.
Intimate moments like this one as well as any disclosure about a patient's health are supposed to be shared only with the patient and designated family members under a federal patient privacy law known as HIPPA which stands for Health Insurance Portability and Accountability Act. Under this law, media are not authorized access to patients health information without the patients consent. Anita or any other members of her family were never asked by the hospital or the TV crew if it was OK to film her husband (see previous article in the New York Times). Her son, Kenneth Chanko also filed a lawsuit against the hospital and ABC.
Read more in the NY Times