NYPD blames the victim in fatal collision between a bicyclist and a truck in New York City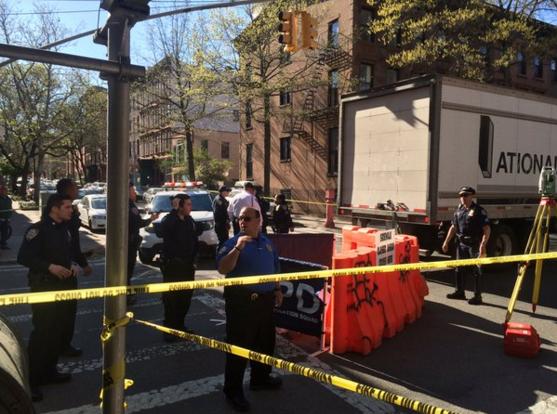 A bicyclist died after being struck by a tractor-trailer truck in Brooklyn, NYC, on Wednesday morning around 9:00 am. The accident occurred at the intersection of Sterling Place and 6th Ave in Park Slope in an area where tractor-trailers are not authorized to drive except if they have a special permit. In NYC, tractor-trailers can only drive on designated truck roads but according to local residents it is common to see big rigs driving on 6th Avenue especially since the Atlantic Yards has been developed.(see video below). The NYPD doesn't seem to really care about this issue as so far since the beginning of the year no tickets for truck route violations have been issued by the 78th precinct where the accident happened. Instead of admitting that the truck wasn't supposed to be driving in a narrow residential avenue, the NYPD blamed the bicyclist for his own death.
In a first statement the police implied that the cyclist was at fault and hit the rear wheel as he was trying to grab the side of the truck to hitch a ride. In a second statement the NYPD changed its version and said that the bicyclist was pulled under the wheel of the truck by a wind force. For this to happen, the truck would have to have been driving at a speed that would likely be impossible to reach on this narrow Brooklyn Ave.  It seems pretty obvious to us hat the big rig wasn't supposed to drive in the residential area and that he recklessly passed the bicyclist too close. Additionally, witnesses reported that he was driving with headphones on.
Read more in the Gothamist

Picture Source: Nicholas Thompson