New York Product Liability Lawyer Anthony H. Gair named a 2018 Best Lawyers® "Lawyer of the Year"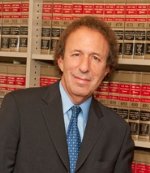 Our NYC product liability attorney Anthony H. Gair was recently recognized by Best Lawyers as the 2018 "Lawyer of the Year" for Product Liability Litigation – Plaintiffs in the New York City area.
Only a single lawyer in each practice area and designated metropolitan area is honored as the "Lawyer of the Year," making this accolade particularly significant. These lawyers are selected based on particularly impressive voting averages received during the peer review assessments.
Receiving this designation reflects the high level of respect a lawyer has earned among other leading lawyers in the same communities and the same practice areas for their abilities, their professionalism, and their integrity.
In addition to the "Lawyer of the Year" award, Anthony H. Gair was also listed in the 2018 Edition of The Best Lawyers in America in the following practice areas:
Personal Injury Litigation – Plaintiffs
Mass Tort Litigation / Class Actions – Plaintiffs
Medical Malpractice Law – Plaintiffs
Since it was first published in 1983, Best Lawyers has become universally regarded as the definitive guide to legal excellence.
Anthony Gair has represented numerous plaintiffs who suffered catastrophic injuries as the result of defective or dangerous products. He has recovered millions of dollars for them. Additionally, he has written extensively in the field of Product Liability Law. Some of his publications include:
"Culpable Conduct/Comparative Fault Issues as Applicable to a Products Liability Case", in Products Liability in New York, Strategy and Practice 2nd Edition, New York State Bar Association, 2012, Anthony Gair and Rhonda E. Kay.
"Combat Culpable Conduct Defense by the Defendant's Design Engineer"
Leader's Product Liability Law and Strategy, Vol. XVII, No. 12, June 1999, Anthony Gair and Howard S. Hershenhorn
"Preparing Plaintiff's Expert in the Post Kumho Era" New York State Bar Association, 1999, Anthony Gair
"Culpable Conduct/Comparative Fault Issues as Applicable to a Products Liability Case", Products Liability in New York, Strategy and Practice, New York State Bar Association, 1997, 2002 Supplement, Anthony Gair and Rhonda E. Kay
"New Frontier in Products Liability", New York Law Journal, September 16, 1996, Anthony Gair and Howard S. Hershenhorn