New York Train Accident Lawyer Howard Hershenhorn just filed a lawsuit on behalf of one of the victims of the Metro-North train Valhalla crash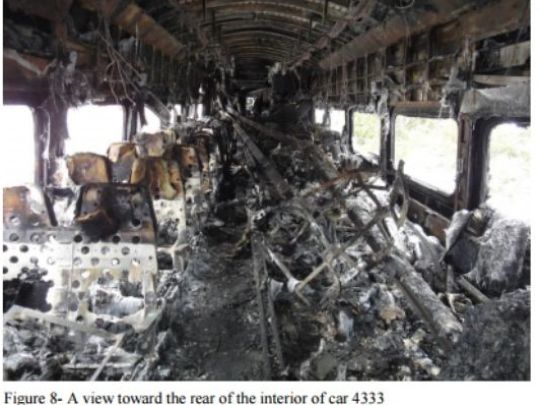 Almost a year ago 6 people died and 15 others were injured (including seven severely)  in a Metro-North train accident  between the Valhalla and Mount Pleasant stations in New York.  The Valhalla railroad accident that happened on the evening of February 3rd 2015 was the deadliest in Metro-North history.
Ellen Brody, a mother of three was driving her SUV through the Commerce Street rail crossing in Valhalla. The vehicle got stuck inside the crossing gate when it descended. The approaching Metro-North train engineer spotted her too late and crashed into her vehicle. She was killed in the accident along with 5 other train passengers who were sitting in the lead car of the train. An alleged defective third rail became dislodged and entered the first car of the train. Investigators believe the fuel from the car combined with the sparks of the dislodged third rail ignited the fire that ravaged car 4333 (see picture from the National Transportation Safety Board Investigation on the left).
Our partner, NY train accident attorney Howard Hershenhorn is representing the wife of one of the victims. Last week he filed a negligence lawsuit against Metro-North and its engineer Steven Smalls Jr. as well as the town of Mount Pleasant. The lawsuit lists multiple reasons for the defendants alleged negligence. Among them:
poor visibility and difficulty to hear the train signal
poorly designed third rail
negligence of local officials who were aware of the safety hazard but never petitioned the DOT to close the crossing
excessive and unsafe speed
"We are going to focus on the operation of the train and the train operator and his failure to recognize and stop the train," said Hershenhorn in a Lohud article that was released yesterday.
Last December the National Transportation Safety Board released more than 1110 documents related to the Valhalla train crash. They include witnesses testimony of what happened in the burning train car, questions about the safety of the crossing and the timing of the traffic light.  The NTSB also released a detailed examination of Ellen Brody's actions just before the fatal accident happened. The press release and the docket information can be found here.