Less deaths but more injuries in car accidents in New York City in 2015
269,140 people were injured in NYC auto accidents last year compared to 256,005 in 2014. This represents an increase of almost 5% in one year. The number of crash injuries first decreased between 2013 and 2014 before significantly increasing in 2015.  By categories motorist injuries and cyclist injuries added to the increase while pedestrian injuries and passengers injuries both declined.
While injuries were on the rise, the yearly number of deaths related to motor vehicle accidents gradually declined. From 286 in 2013, it went down more than 12 % to 250 in 2014  and more than 6% to 235 in 2015. By categories, motorists deaths, pedestrians deaths and bicyclists deaths all declined while passengers deaths increased.
Click on graphs to increase to increase size

The yearly number of motor vehicle accidents increased by almost 6% between 2014 and 2015 while in 2014 it only increased by less than 1% compared to 2013. The NYPD collision statistics indicate that there were 203,390 collisions in 2015 compared to 205,119 in 2014 and 203,390 in 2013.
Distracted driving continues to be the number one cause of accidents in NYC increasing at a fast pace.  Over the last 3 years the number of accidents caused by distracted driving increased by more than 32 % Distracted driving caused 27,871 accidents in 2013, 32,224 in 2014 and 41, 386 in 2015. Following too closely and failure to yield the right of way continued to be the second and third causes of accidents in the city.  12,774 accidents in 2013, 15,531 in 2014 and 20,359 in 2015 were caused by drivers following too closely. Drivers who failed to yield the right of way were responsible for 9,480 accidents in 2013, 11,205 in 2014 and 13,281 in 2015.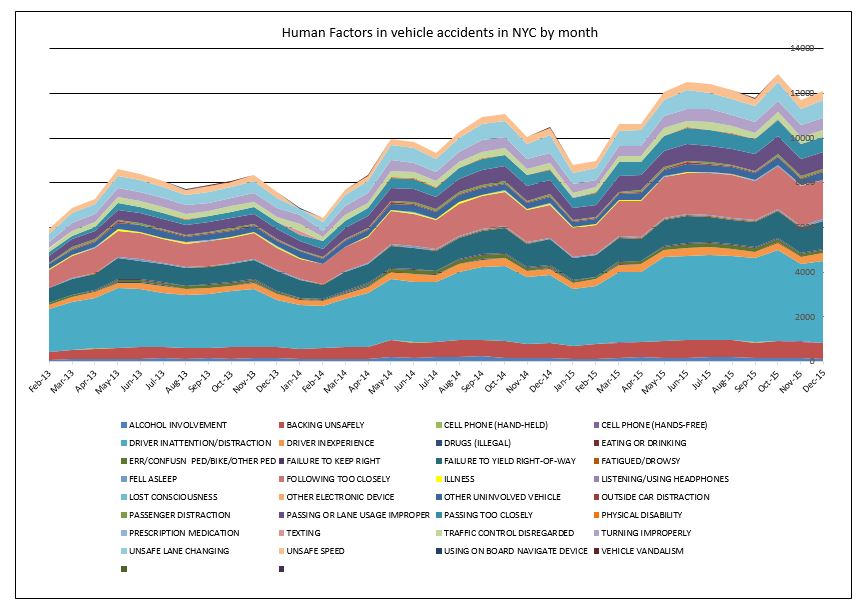 10,057 pedestrians were injured and 128 died in traffic accidents in New York City in 2015 compared to respectively 10,990 and 130 in 2014 and 11,978 and 168 in 2013. Pedestrian injuries decreased by almost 20 % in two years while pedestrian deaths decreased by more than 30% between 2013 and 2015. While pedestrian injuries declined gradually over the last two years the decrease in pedestrian deaths mostly happened in 2014 and kept stable in 2015.
The decline of pedestrian fatalities and personal injuries is linked to the launch of the New York City Vision Zero program launched by Mayor de Blasio in January 2014. The program which is piloted by a multi-agency task force has been launching numerous initiatives that encompass street design, outreach enforcement, legislation and campaigns to make the streets of the city safer.

As bicycling continues to expand faster than any other modes of transportation in NYC so does the trend for bicycle accidents unfortunately.  While they were pretty much stable in 2013 and 2014 at 5,163 and 5,151 respectively, bicycle accidents jumped by almost 7% in 2015 to reach a record high of 5,523.
The number of bicycle injuries followed the same trend as the number of accidents. It decreased first between 2013 and 2014 before increasing in 2015. A record number of 4,274 cyclists were injured in 2015, an increase of more than 7% compared to 2014 a year during which 3,960 people were injured in bicycle accidents.
14 cyclists died in New York City streets last year. It is less than the 19 deaths of 2014 but more than the 11 deaths of 2013.
Over the last two years under the Vision Zero program, many initiatives have been launched to make the city safer for bicyclists but it is is not enough. More needs to be done to improve the safety of thousands of commuters who have now chosen the bicycle as their favorite mode of transportation.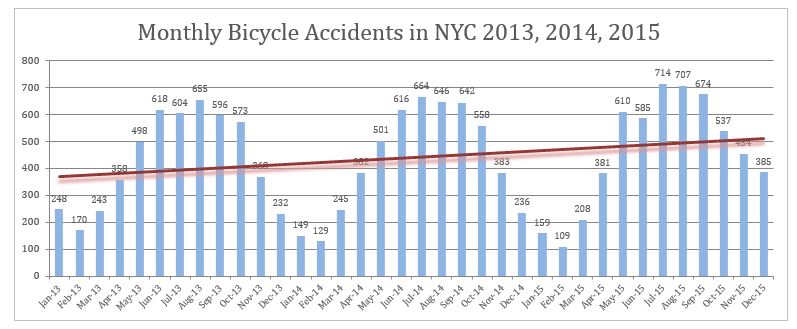 Surprisingly motorist injuries which were down by more than 8% in 2014 compared to 2013 increased by more than 16% from 2014 to 2015. A record of 20,056 motorists were injured in NYC motor vehicle accidents in 2015 compared to 16, 764 in 2014 and 18,355 in 2013.
On the positive side the number of motorist deaths has been declining gradually over the last 3 years in New York City. From 84 in 2013, it went down to 75 in 2014 and 59 in 2015.

Contrary to the number of motorists injured, the number of passengers who suffered personal injury in New York car accidents decreased every year over the last 3 years. From 20,442 in 2013, it went down to 19,172 in 2014 and 16,868 in 2015.
The number of passenger fatalities followed an opposite trend and went up over the last 3 years . From 23 in 2013, it went up to 26 in 2014 and 34 in 2015.