New York Traffic Accidents: NYPD opposes a bill requiring the department of information technology and telecommunications to create and maintain an interactive website detailing traffic crash data
A New York City public map of crash locations and traffic fatalities that would be updated monthly is a brilliant idea but the NYPD is reluctant to share this data with the public.
At a City Council transportation committee hearing on Thursday, the NYPD testified in opposition to a bill requiring NYPD to release a monthly crash map to the public. The NYPD said that it was already doing enough to release information to the public.
At present, crash and summons information is released in PDF and Excel formats that the police department must compile each time it releases data.
Read more on StreetBlogs.org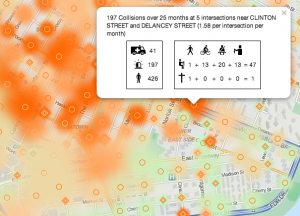 The only map available to the public Today is a thrid party map: http://nyc.crashmapper.com/