OSHA, NIOSH present webinar on preventing deadly falls in construction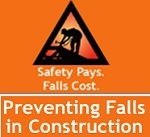 On April 10, at 11 a.m. EST, OSHA's Director of Construction Jim Maddux, and NIOSH's Director of Construction Safety and Health, Dr. Christine Branche, will co-moderate a webinar to discuss ways of stopping the leading killer of construction workers – falls from heights. To register for the free webinar and to learn more about efforts by OSHA, NIOSH, and CPWR to protect construction workers from fatal falls, visit the registration page.
This seminar is part of of a nationwide outreach campaign by OSHA to prevent falls in construction sites. The theme of the campaign is – PLAN ahead to get the job done – PROVIDE the right equipment – TRAIN everyone to use equipment safely These says OSHA are three simple steps to reduce the number of falls and save lives.
Falls are the leading cause of death among constrcution workers. According to the most recent statistics of the LBS in 2011, falls accounted for 541 fatal work injuries.
Find resources to support the OSHA-NIOSH-CPWR Fall Prevention campaign in your community at www.osha.gov/stopfalls (y en Español), including stickers, wallet cards, fact sheets and posters. To order these or any of OSHA's outreach materials, call OSHA's Office of Communications at 202-693-1999 or visit OSHA's Publications page