To prevent bicycle accidents, the NYC DOT is planning to install a protected bike lane on 7th Avenue
Protected bike lanes have proven to be one of the most efficient street designs to prevent bicycle accidents in New York City. Yesterday the Department Of Transportation (DOT) announced that it was planning to add such a bike lane on 7th Avenue from 30th Street to Charlotte Street, in downtown Manhattan. The project was partially presented last night to the Community Board 4.
Despite having several safer options to ride safely North or South in Chelsea and in the West Village, a significant number of bicyclists are still riding on 7th Avenue.  In a 14-hour period, the DOT counted 2,350 people biking at the intersection of 20th street and 7th Avenue. The traffic is usually fluid on the downtown segment of the avenue and speeding is common, increasing the risk of serious or fatal crashes.
If the project is accepted, the number of  traffic lanes will be reduced from 4 to 3 and a protected bike lane will be added.  The DOT believes that the project will reduce speeding and increase bicyclists safety. Pedestrian safety will be improved as well as crossing distances being shortened.
Yesterday night the DOT only presented the Chelsea part of the new design. The rest of the project covering the West Village part will be presented to the Community Board on May 2nd.
Members of CB4 received the project extremely positively and endorsed it unanimously. However they asked the DOT to re-study the intersections design especially at the intersections of 17th street and 19th street. The DOT project plans for two intersections with split-phase signal while all other intersections would rely on a mixing zone. In a mixing zone turning traffic and bicyclists have the green light at the same time. The recent death of a bicyclist who was struck by a truck in a mixing zone has renewed  bicyclists advocate concerns about the safety of such design. Split-phase signal has proven to be much safer than mixing zone.
Read more in StreetsBlog NYC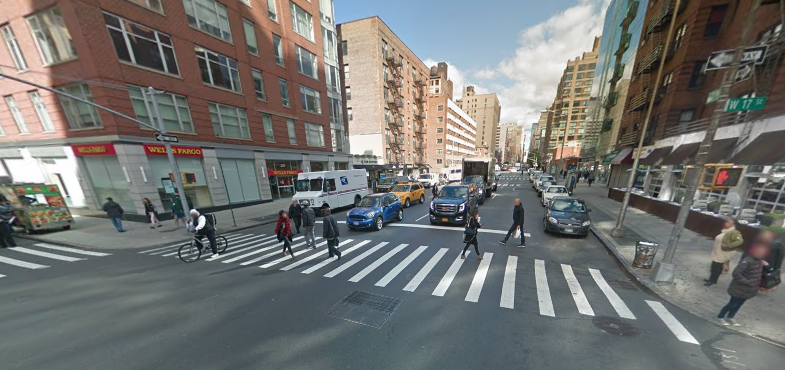 The intersection of 20th Street and 7th Avenue, Downtown Manhattan , picture courtesy of Google Map