The Alliance for Biking and Walking just released its comprehensive 2014 Benchmarking report
The BICYCLING AND WALKING IN THE UNITED STATES 2014 BENCHMARKING REPORT just came out. This report provides one of the most comprehensive reviews on bicycling and walking all over the US. It is compiled by the Alliance for Biking & Walking which is the North American coalition of over 220 state and local bicycling and walking advocacy organizations.
The Benchmarking report focuses on the 50 States and the 50 most populous American cities. Additionally and for the first time, 17 small and midsize cities were also added to the 2014 report to provide a more complete picture of biking and walking activities in the country.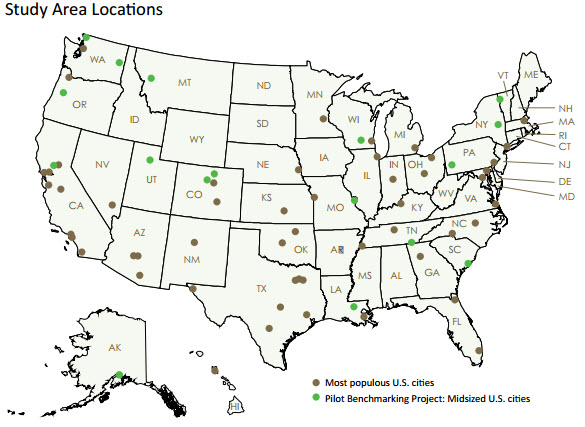 Globally the report shows a slow but steady increase of people using their bikes or their feet to go to work. The report also demonstrates that the level of pedestrian and bicycle accidents is inversely proportional to the number of bikers and walkers and that advocacy groups are playing an important role encouraging people to do so.
Alaska, Oregon, Montana, New York, and Vermont have the highest number of commuters biking and walking to work while Alabama, Georgia, Mississippi, Tennessee, and Texas have the lowest. Public health is globally better in states were more people are biking and walking.
Biking and walking is also much safer now than it was in the past: since 1980 the fatality rate for bicyclists and pedestrians has been dropping however this rate went slightly up recently. Fatal accidents involving a bicyclist or a pedestrian amount for 15% of all fatal traffic accidents in the US but only 2% of federal transportation funding goes toward bicyclist and pedestrian safety related projects. States and local government are doing better in this area as most of them now have a published goal to increase walking and bicycling activities while improving safety for bicyclists and pedestrians.
Because this report is so dense but so interesting we will publish a series of blogs covering each chapter of this report. In a next blog we will look at the level of bicycling and walking in the United Sates with a focus on New York.
The complete report can be found here