NYC Zero Vision to reduce traffic fatality and personal injury: After Atlantic Ave in Brooklyn last week, the Grand Concourse in the Bronx will be the second Arterial Slow Zone in the city with speed limited to 25mph
12 people including 7 pedestrians died in auto accidents and many others were injured in speed related crashes along the Bronx Grand Concourse in New York City between 2008 and 2012. Speeding is the main cause of accidents in this dangerous area but this is about to change extremely soon as as officials announced that the the 5.2 miles Bronx corridor will be the second of 25 planned NYC arterial slow zones. The first one was introduced last week on Atlantic Ave in Brooklyn.
Starting this month, traffic signals will be synchronized to reduce dangerous speeding, new 25 mph signage will be installed and the NYPD will increase enforcement in this dangerous area of the Bronx.
The arterial slow zone program is one of the 63 measures included in New York Zero Vision Program launched by Mayor de Blasio at the beginning of the year. Throughout the city, arterial roads amount for 15% of the mileage but for 60% of pedestrian fatal accidents.
Read the press release from the NYC Department of Transportation
Read more in Streetblog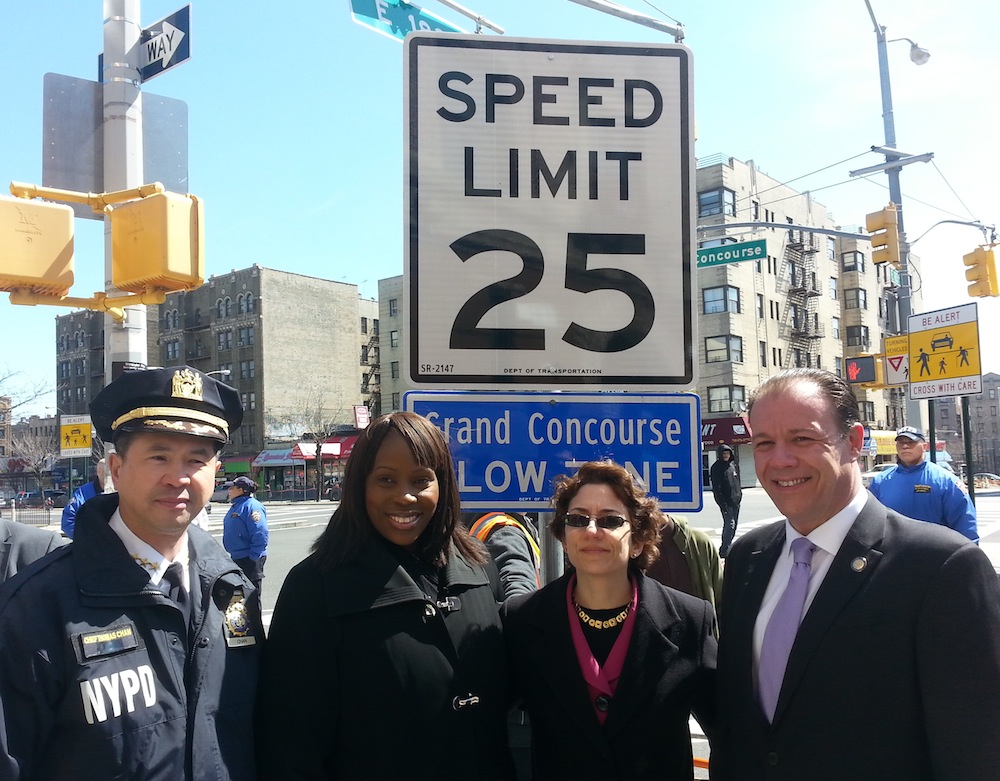 NYPD Chief of Transportation Thomas Chan, Council Member Vanessa Gibson, Transportation Commissioner Polly Trottenberg and Assembly Member Mark Gjonaj unveil NYC's second "arterial slow zone" . Photo: Stephen Miller, StreetBlog