13 people suffer personal injury in New York Bus accident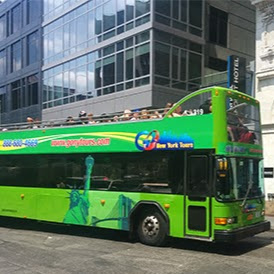 13 people were injured in a bus accident in New York this afternoon. The bus was a double decker operated by Go New York Tours. The bus was heading South on Fifth Ave near 63rd Street when it crashed into a tree. The bus driver told the police that he swerved to avoid a cab who cut  in front of him. However a witness who was crossing the street at the time of the accident told the NY Daily News that it wasn't true. He explained that the bus was driving too fast and that he jumped the curb to avoid a city bus that had stopped in front of him to pick up passengers. According to the same witness, the driver never hit the brakes and went straight into the tree. The impact was so violent that  it sounded like an explosion.  Among the injured, a couple of tourists in their 70's suffered serious head injuries.  11 other people were also injured and transported by ambulance to the hospital.
Go New York Tour is a company operating 22 "hop and off"double deckers buses with 40 drivers. The company has a terrible reputation in New York City. It was investigated by the Consumer Affairs department in 2014 for ripping off tourists, having ill-informed guides and bus drivers as well as employees behaving in an extremely rude and profane manner.
The Consumer Affairs department conducted multiple inspections of the Bus Tour operator which according to ABC News has been slapped with 18 violations including one driver without a commercial driver's license. 3 of the 22 buses failed to pass federal inspection and one of the buses was also involved in an accident with a car last March in Queens. It is a shame that the city of New York still allow this company to operate.
Clients reviews are terrible. On 82 Google reviews the company scores  2.5 stars. Clients are complaining about the staff being extremely rude. Many of them also complained about buses breaking down during rides and not being maintained proprely. Also the company claims a waiting time of a maximum 15 minutes for a bus while clients complain on reviews that they had to wait up to an hour and sometimes were passed by several full buses before being able to board. Several reviews complained about guides being totally ignorant and bus drivers insulting clients.  Trip Advisor has a special warning that indicates that the company was trying to interfere with clients reviews.
On YouTube a slew of negative videos depict employees screaming at customers, buses in terrible conditions and  employees being maltreated.
Picture: Courtesy of Google +