Bicycle accident prevention in NYC: more protected bike lanes on the way
Following the increase in fatal bicycle accidents in New York City last year the DOT recently announced that New Yorkers would get 30 more miles of protected bike lanes all over the city this year.
The de Blasio administration has so far announced that 10 of the 30 miles would be allocated to Brooklyn and 10 others to Manhattan. In Brooklyn where most fatalities occurred last year, cyclists will soon have protected bike lanes while riding along 4th Avenue north to the Barclay Center, while riding out of the new Kosciuszko Bridge on Meeker Avenue and on Navy Street close to the Brooklyn Navy Yard as well as on Remsen Ave in Canarsie.
On the map released by the DOT at a previous conference (see picture), the pink lines show the protected bike lanes that will be added this year in Brooklyn and the yellow lines show potential protected bike lanes that might be added in 2021. The green lines are the existing bike lanes.  Read more here 
A popular stretch of  6th Ave between Central Park and 33rd Street will now have a protected bike lane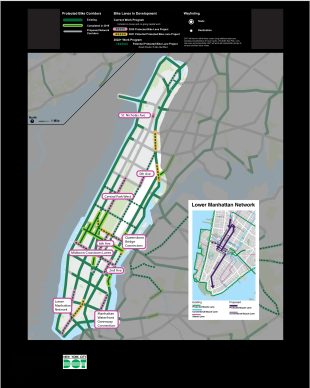 Last week the DOT also announced that 10 miles of protected bike lanes will be added in Manhattan as well. Among them, the gap between 33rd Street and Central Park on 6th Avenue. This gap was called by street activists the road to nowhere. A dangerous unprotected area of Second Avenue between 43rd and 34th streets will also be fixed. Additionally, the controversial Central Park West bike lane will now be extended to 110th Street. Several crosstown bike lanes leading to the Queensboro bridge will be protected.  Additionally protected bike lanes will also be installed in Harlem on Fifth Avenue at the exit of Central Park from 110th street to 120th Street. In downtown Manhattan, the DOT will create a Manhattan Waterfront Greenway connection to protect bicyclists during the East River Park reconstruction.. A few other corridors all over Manhattan will also be filled.
Read more in  Streetblog