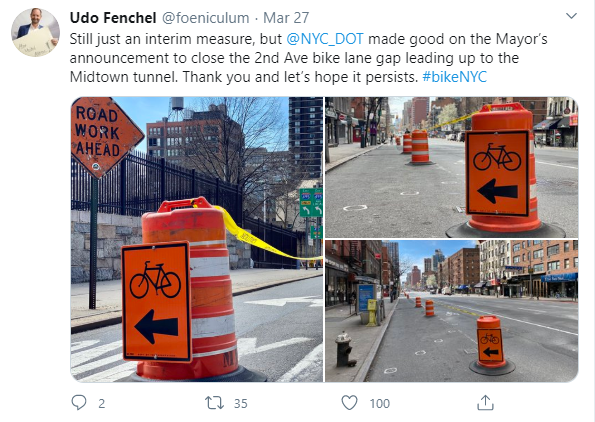 After a rise of almost 50%  of injuries caused by
bicycle accidents in New York City
between March 2nd and March 9, the New York DOT created two temporary bike lanes in Manhattan and in Brooklyn. The new bike lanes have been installed in the East of Manhattan and the South of Brooklyn where many of the accidents reported at the beginning of this month occurred.
The creation of the temporary bike lines takes place at a time during which the Covid-19 crisis has lead to a significant decrease in car traffic and a boom in bike traffic
Between March 1st and March 11, CitiBike rides increased by 67% compared to the same period the previous year with  a total of 517,768 trips compared to 310,132.  The bike traffic increased significantly on the four bridges connecting Manhattan with Brooklyn and Queens. The
New York Times
  reports that on March 9, 21,300 bike crossings were reported in one day compared to 14,032 a year before, a 52% increase. The increase in bike traffic resulted in an increase of bicycle accidents injuries all over the city
(see previous blog)
with many of them occurring near bridge crossings.