Bronx family brings lawsuit against landlord for deadly fire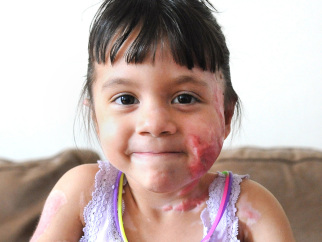 Our partner, New York Personal Injury Lawyer Howard Hershenhorn, represents the Bronx family of a four-year old girl who has been severely burned (see picture of Haile Martinez) and her seven year old sister who died from smoke inhalation and burns covering 80 percent of her body after a kitchen fire was sparked by an improperly installed stove.
Two weeks before the deadly accident, the super installed a new stove in the apartment. According to Hershenhorn, "The super positioned the appliance so close to the wall, it crushed the electrical cord, damaging it to the point where it ignited". This was confirmed by the FDNY Bureau of Fire Investigation incident report that listed "Appliance Cord" as the cause of the fire.
The family's lawsuit additionally faults the landlord for not installing the required kitchen smoke alarm, and for "spoilating the evidence" by dismantling the charred kitchen the day after the fire.
"They collected all the appliances. Everything from that kitchen was gone," Hershenhorn said. "They literally ripped the wiring out of the wall," he added. "They were trying to cover this up. That's the only explanation."
Read more in the New York Post