How to prevent deaths and personal injuries related to tipping furniture and TVs?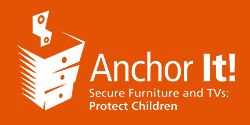 Furniture and TV tip-overs are among the top cause of deaths and personal injuries around the house. Every 24 minutes in the US a child is sent to the emergency room because of a fallen TV or tipped furniture. Every 15 minutes someone in the U.S. is injured by furniture tip-over and on average, one child dies every two weeks when a TV or furniture falls onto him or her.
"Anchor It", a new national safety campaign outlines the dangers of tip-overs and explains how easy it is to anchor furniture and TVs properly.
Families with children can easily prevent tip-over accidents by making sure televisions are placed on stable and sturdy furniture designed for this purpose. Wall mounted TVs are the best way to prevent tip-over but when TVs are not wall mounted they should be anchored to the wall. Heavy furniture should also be anchored with anti-tip brackets.  Small objects on top of furniture that may tempt children to climb onto the furniture to grab them should also be removed.