Injuries and deaths related to storm drains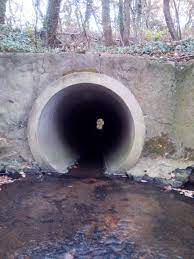 When people died in flooding that occurs after heavy rain there is usually not a lot of information about the cause of the death except for "the person drowned". However a recent investigation by ProPublica highlights the danger of the actual drainage system in the US. Giant storm drains with no grates have been constantly "swallowing people" during heavy rains and flooding.
A recent case occurred in New Jersey last September. A couple who was driving back from a visit at a North Jersey mall was driving back at night on September 1st when the remains of Hurricane Ida abated in New York and New Jersey. Extremely heavy rain left motor vehicles stranded on the road. The couple, like many other motorists, decided to abandoned their car, thinking it would be safer to walk in the muddy water and find a safe place to stay until a family member could pick them up. As they were walking in the muddy water, they suddenly were sucked under water into what looked like a large black vacuum. The woman, Kavya Mandly was able to grab a bridge railing and did not get sucked in but her fiancée, Dhanush Reddy who was only holding her hand, was not as lucky and disappeared in the drain. Reddy had just been sucked into a 3-foot wide storm drain. As the police arrived they started to look at the exit of the drain. They found another 18 year old man hanging in a tree who also had been pulled in a drain. He was still alive. Reddy was not as lucky and was found dead in a wooded area the following day, blocks away from the entrance of the drain.
Unfortunately Reddy is not the only one that has died after being pulled in a storm drain. Stories like this one are actually quite common but cities and communities are reluctant to put grates in front of these dangerous drains because of the cost of not only installing them but also keeping them clean so they are still functional when a storm occurs.
Read the entire ProPublica investigation
Picture: courtesy of Wikipedia