New York Medical Malpractice Lawyer Jeffrey B. Bloom spoke at Mount Sinai Update: Breast Imaging Conference 2017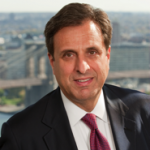 Our Partner Jeffrey Bloom on October 11th spoke at "Mount Sinai Update: Breast Imaging Conference" sponsored by The International Institute for Continuing Medical Education, Inc.
This CME program is designed to cover clinical aspects of breast imaging including digital mammography, breast ultrasound, breast MRI, and interventional procedures, as well as medicolegal issues. Jeff spoke to physicians regarding the plaintiff's attorney's perspective on breast imaging malpractice. Jeff has also spoken to emergency room physicians and neonatologists on medical legal issues.
He believes that it is part of our professional responsibility to educate physicians about medical malpractice, patient safety and how to avoid becoming a defendant in a medical malpractice case. Since joining the firm following his graduation from law school he has carved out a reputation as one of the top medical malpractice attorneys in New York.