NY State Trooper causes car accident mayhem after opening fire on RFK bridge (Triborough bridge) in hunt for stolen car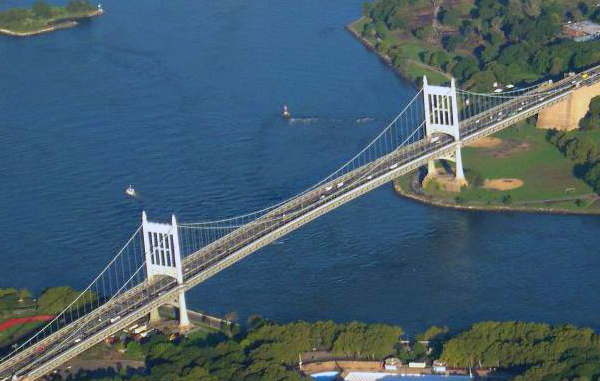 Thankfully nobody was seriously injured in an accident involving multiple cars  after a NY State trooper opened fire on two suspects fleeing in a stolen car  on the RFK bridge that was packed with holiday travelers.  The bridge was closed  for hours creating major traffic delays.
The hunt for the car, a 2021 Acura Sedan, started the day before when the owner of the car reported to the police that the vehicle was stolen. On Sunday afternoon, the owner of the Acura contacted the police again and told them that his tracking app was showing the vehicle on the RFK bridge. The car was spotted by the Triborough Bridge and Tunnel Authority officials who contacted the NY State Police.
According to a witness the State troopers were able to localize the car and get close to it. One of the troopers knocked on the window of the stolen car. After a while the driver opened it and the officer grabbed him by the neck.  The driver took off, hitting another car that struck the trooper. The trooper then opened fire on the fleeing suspects who hit multiple other cars as they were fleeing from the police.   Two people were hurt including the State Trooper and the thieves were arrested in Harlem after they got off the bridge.
The investigation following the accident caused traffic chaos as two lanes in both directions were closed after 1:00 pm on Sunday and did not reopen until midnight.
The driver was 21 year old Josue Viorato and the passenger was a 17 year old boy whose identity was not revealed by the police because of his young age.  Viorato was charged with unauthorized use of a motor vehicle, reckless endangerment, vehicular assault and unlicensed operation of a motor vehicle and the young passenger  who was in possession of an imitation gun  was charged with criminal possession of a weapon, possession of an imitation firearm, obstruction of governmental administration and unauthorized use of a motor vehicle.
There was no mention of  investigation of the State trooper's dangerous behavior…
Read more here
Picture of the RFK Bridge: Courtesy of Wikipedia