NYC Bicycle accident deaths reached a monthly record high last September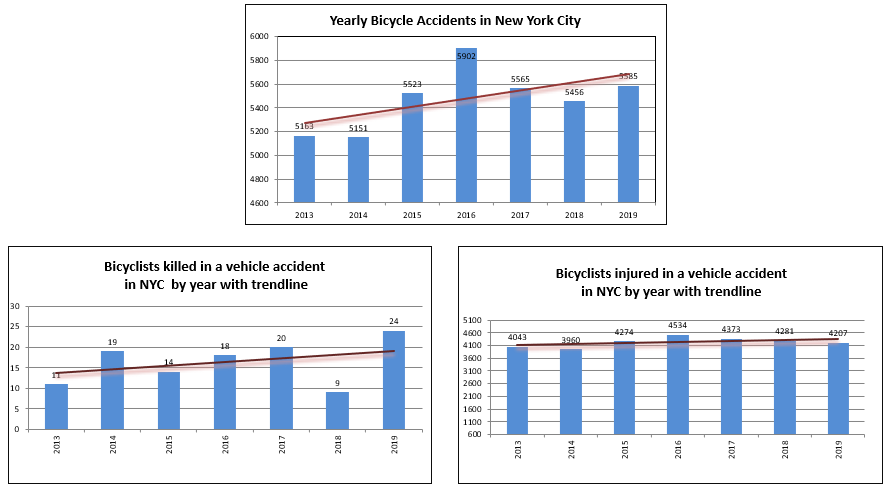 7 cyclists died in accidents in New York City last September. This is the highest number of monthly bicycle accident fatalities under Mayor de Blasio's terms.
At the beginning of his term Mayor de Blasio launched the Vision Zero program to reduce the number of pedestrian and cyclist fatalities in New York City. While the program lead to a decrease in pedestrian fatalities, cyclists fatalities reached a record high in 2019 with 24 cyclist fatalities.  So far 16 cyclists died in traffic accidents in the city in 2020.
While the mayor has been calling on New Yorkers to walk or use bicycles to go to work during the pandemic, he has not done enough to improve their safety according to street safety activists
New York cyclists are still waiting for the famous "Green Wave"  program to be implemented. So far out of the 80 miles of protected bike lanes promised, 21 have been implemented last year and, according to the DOT, 20 miles of temporary and permanent bike lanes have been installed this year.  It would be actually interesting to know how many miles of permanent protected bike lanes have been installed. Too often temporary protected bike lanes do not last. Orange cones that are installed to protect cyclists are mysteriously moved to the sidewalk after a few days, leaving cyclists without any protection and without notice that the bike lane is not there anymore. Additionally, not every borough is receiving the same treatment. Many New Yorkers who traded their MetroCard for a bike and especially those living outside of Manhattan are now realizing how dangerous it is to commute by bike from one point to the other in the city. In a recent article,  Clara Gerlach, a 23 year old staff writer for the Fordham Observer complains about the lack of safety for cyclists and explains why NYC needs more protected bike lanes. Among the 7 bicyclist deaths that occur last September, 3 were in the Bronx, 3 in Brooklyn and 1 in Queens.
Read more in the NY Daily News