NYC Construction Accidents Prevention: Build Safe , Live Safe 2021 Digital Conference is this week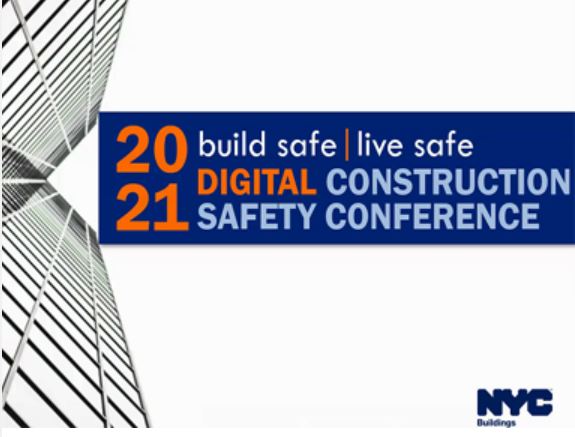 How to prevent injuries and deaths caused by construction accidents in New York City is the main subject of the yearly Build Safe, Live Safe Conference organized by the NYC Department of Buildings.
The conference is digital for the second consecutive year because of the ongoing Covid19 restrictions in regards to large gatherings in indoor spaces.  The event started this Monday and continues until Friday.
The Conference which takes place during the same week as National Construction Safety Week, and OSHA's National Safety Stand-Down to Prevent Falls in Construction is free and covers a broad area of subjects related to safety and sustainability in the construction industry in New York City such as :
Safety of 19th century corner lot buildings: these buildings which are often located on streets with heavy traffic are often the subjects of multiple renovations and some of their structural elements such as old wood cornice or deteriorated brownstone can wear off and become unstable putting pedestrians at risk of injury and death.
How to protect residents from accidents during construction work?
How to make sure a façade is safe? What are the signs showing that a façade is deteriorating and what needs to be done? How does the mandatory façade inspection work in NYC?
NYC Construction workers safety in 2021 in multiple languages (Chinese Mandarin Today and Polish Tomorrow): A look at Local Law 196, New Covid19 Safety Guidance and case studies of recent construction accidents in NYC during which workers were injured or killed
How to demolish safely?
How to safely erect scaffolds, outrigger and thrust out platforms?
Understanding the deterioration of construction material caused by NYC climate conditions and what protection can be used to mitigate it
Understanding safety compliance requirements for facades, retaining walls, sprinklers, boilers and elevators
Cranes and Derricks accident prevention
 Register here to attend webinars in the above subjects