NYC Personal Injury Attorney Christopher J. Donadio Named Partner with Gair, Gair, Conason, Rubinowitz, Bloom, Hershenhorn, Steigman & Mackauf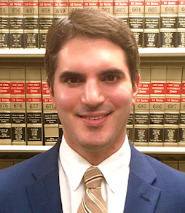 The partners at our personal injury law firm are proud to announce that Christopher J. Donadio has been named a partner at the firm.
Since joining the firm, working with Anthony Gair, Chris has proven to be an invaluable asset . Chris has demonstrated a remarkable ability in handling cases from inception through trial. He recently obtained a $3 million verdict in an extremely difficult medical malpractice case alleging a failure to diagnose pancreatic cancer.  He has been involved in resolving multiple 7 figure cases during the short time he has been with the firm. Among them he was co-counsel with Ben Rubinowitz in a case involving injuries to a construction worker which resulted in a $6.25 million verdict. He also settled a case for $5.85 million for a construction worker who suffered a spinal injury.  Chris has also lectured at numerous seminars in the field of personal injury litigation.
Prior to joining the firm, Chris  who is admitted to practice in both New York and New Jersey spent 7 years honing his trial skills in another personal injury law firm where he obtained over 40 jury verdicts.
Chris has been recognized as a Best Lawyer in New York and a Super Lawyers Rising Star. He first showed oral advocacy ability while attending Duke Law School when he was selected to represent his school at the National Moot Court Competition.  During his time at Duke, Chris was a member of the Duke Journal of Constitutional Law and Public Policy. He also provided free representation to those who could not afford to hire a lawyer while working at legal clinics.
All at the firm are proud to have Chris as a partner.