Over 80% of Nursing Homes Struggle to Meet Proposed CMS Staffing Standards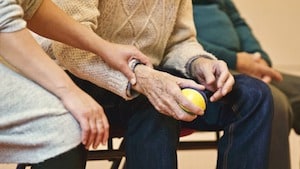 Amidst growing concerns about the quality of care in nursing homes, the Centers for Medicare & Medicaid Services (CMS) recently introduced proposed guidelines aimed at improving staffing levels. However, a new estimate by the Kaiser Family Foundation (KFF) has revealed that a staggering 81% of nursing home facilities nationwide, and a staggering 90% of for-profit facilities, would need to hire additional registered nurses (RNs) or nurse aides to meet these standards.
Under the proposed rule, nursing homes would be required to maintain a minimum of 0.55 RN and 2.45 nurse aide hours per resident day, along with having an RN available on staff 24/7. This rule is a response to long-standing concerns about inadequate staffing negatively affecting the care provided to nursing home residents.
Predictably, industry leaders have voiced their reservations about this proposal, arguing that a nationwide nursing shortage makes it nearly impossible for facilities to meet these staffing targets. The effects of the COVID-19 pandemic have further exacerbated this issue, with many workers leaving their positions due to burnout, low wages, and the intense stress associated with caring for vulnerable populations during a public health crisis.
The staffing crisis is reflected in the numbers: employment levels in long-term care facilities remain 11% below pre-pandemic levels industry-wide and 3% below pre-pandemic levels for workers in elder care facilities. These statistics, sourced from the Bureau of Labor Statistics, underline the magnitude of the problem.
Mark Parkinson, president and CEO of the American Health Care Association, which represents thousands of skilled nursing facilities and assisted living centers, expressed his concern. He warned that the policy would necessitate hiring tens of thousands of nurses who are simply not available, potentially leading to the displacement of hundreds of thousands of residents.
Yet, some experts argue that the proposed staffing levels don't go far enough. They had hoped that the CMS would mandate 4.1 hours of nursing care per resident per day, a number supported by research indicating its positive impact on patient outcomes.
Addressing this staffing crisis is not only essential for the well-being of nursing home residents but also for the long-term sustainability of the industry. Finding a solution will likely require not only financial investments but also improvements in training, benefits, and working conditions for healthcare professionals in this vital sector. In the meantime, the future of our elderly loved ones in nursing homes remains uncertain, highlighting the urgency of addressing this issue comprehensively and promptly.