Gloria Aguilar was awarded $27 million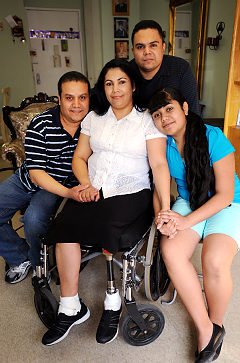 The Appeals Court in New York, known as the Appellate Division, First Department, allowed a total damage award of 18.5 Million Dollars for a woman who lost her leg as a result of the negligence of a bus driver employed by the NYC Transit Authority. The injured woman, Gloria Aguilar, was injured when she was crossing the street in Manhattan. Her left leg was traumatically amputated. This award is the largest ever allowed in the country for this type of injury. Our Partner, Ben Rubinowitz , tried the case in New York Supreme Court and argued the appeal for the injured plaintiff. 2011 Slip Opinion 01117. The case has been widely reported throughout the country.
According to Ben Rubinowitz, " Our firm is particularly well equipped and staffed to handle cases of this magnitude. We specialize in catastrophic personal injury cases. We are always willing to work harder than anyone else and take the case to verdict to make sure our client's receive the best possible award. Richard Steigman wrote a powerful and compelling brief. I am delighted that the Appellate Court saw fit to allow this type of damage award. Ms. Aguilar suffered life changing injuries. She was a pedestrian crossing the street when she was struck by the bus. We prepared the case with extreme attention to detail and fully protected our client's rights and interests. " In describing his job as a Trial Lawyer, Ben Rubinowitz said, " A Trial Lawyer must at all times fight for his client's plight. If the offer to settle is insufficient, this firm is prepared to go the distance. We will not sleep until we achieve the best result we can. The Transit Authority's offer was insufficient and we insisted on taking the case to verdict. " GGCSMB&R has some of the finest lawyers in the field of Personal Injury. It is the only Plaintiff's Personal Injury Firm with 10 Lawyers Listed in the Best Lawyers in America.
$27.5 million payout for mom who lost leg to bus, New York Daily News, April 17th 2009