Potential medical malpractice and technical risks faced by hospitals in 2017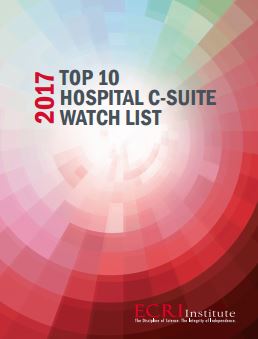 As healthcare evolves so does medical malpractice. The ECRI Institute just published its 2017 Top 10 Hospital C-suite Watch List. Here are the top 10 issues and technical challenges faced by hospitals in 2017.
LIQUID BIOPSIES
Liquid biopsies are tests using patients liquids such as patients' blood, urine or plasma rather than tissues. They are easier, cheaper and less risky than needle or surgical biopsy of tissues. Mostly used for patients with cancer, these types of biopsies are the new trend but they are so new that their reliability  is still questionable.Hospitals using these tests need to set up a solid genetic test clinical utilization process to  mitigate diagnosis error.
OPIOID ADDICTION
Opioid addiction is a major issue when it comes to pain management. Doctors and hospitals have the difficult duty to prevent patients from developing addiction while at the same time alleviate their pain. Genetic tests can now help doctors to identify  patients that have a greater risk than others of being addicted.  However these tests are so new that their reliability still need to be proven. Biosensors wristwatches are being tested to detect relapse or abuse in patients after they leave the hospital. Searchers are also working on a new formulation for substance-abuse treatment regimen such as monthly injection of buprenorphine instead of daily dose.
COMPLICATIONS RELATED TO ABDOMINAL SURGERY
Many patients who are undergoing major surgery such as abdominal surgery are often not fit for it. Poor diet, diabetes and anemia can be factors increasing the risk of surgical complications or mortality after a major surgery. New pilot studies engaging patients in pre-surgery programs emphasizing diet monitoring, exercises, lung function improvement and stress management have shown positive outcomes. These programs are preparing the patient for surgery and recovery beyond the clinical setting. They have lead to a reduction of complications and costs in major abdominal surgeries.
INVESTMENT DECISIONS AND PROCESS
One of the many challenges hospitals are facing is to make the right decision when building new infrastructure or buying new medical equipment.  How can the management plan what will future patients need be? Hospital leaders have to make sure that a solid process is guiding their long-term planning decisions.
HEALTHCARE-ACQUIRED INFECTIONS
Infections continue to be a major cause of costs and morbidity in hospitals. New technologies such as UV lights and disinfection robots are somewhat effective but they are not always practical. UV lights are uncomfortable after a certain time and robots are slow and bulky. A new LED option was recently introduced to the healthcare market to disinfect surfaces. This new technology is more flexible and cheaper than previous options.
ARTIFICIAL INTELLIGENCE
Hospitals have recently started to use robots that can interpret body language and human emotions.  In two Belgian hospitals they are helping reception staff in greeting visitors. Hospitals need to weigh the pros and the cons of using such technology in the future.
ROBOTIC SURGERY
A robotic surgery often lasts longer than a traditional surgery. When a change of position of the patient is required during the surgical procedure, the actual technology requires the surgical team to undock and redock the patient from the robotic arms. This procedure is timely and increases patient safety concerns and discomfort. To solve this issue, a new type of patient re-positioning surgical tables have been developed. The tables are linked to the robot and automatically re-position the patient so that the robot arms can reach the right surgical spot. These tables are expensive and not every type of surgery requires frequent re-positioning of the patient. Hospitals using robotic surgery should  carefully consider the benefit of an Integrated Table Motion. So far they are so new that no clinical studies  have demonstrated their benefits.
ICG FLUORESCENCE ENDOSCOPIC PROCEDURES
Fluorescence imaging techniques have been recently used with great results in endoscopic surgery. Tissue malignancies that were hard to see now become easy to visualize. Surgical dissection of tumors is also made easier with this technology. Hospitals should determine which procedures may be improved with ICG fluorescence and consider an upgrade.
NEW TREATMENTS FOR CROHN'S DISEASE
Hospitals have to start to get ready to use Immunotherapy and Stem Cell Therapy for patients suffering from Crohn's disease. These new treatments are not approved yet but anticipated changes in the regulatory environment may speed up their approval.
VACCINES FOR TYPE 1 DIABETES
These vaccines may be approved soon. They are expected to be costly but they may offset life long expensive treatments and complications.