Prolific trader of child pornography working for the NYC School system arrested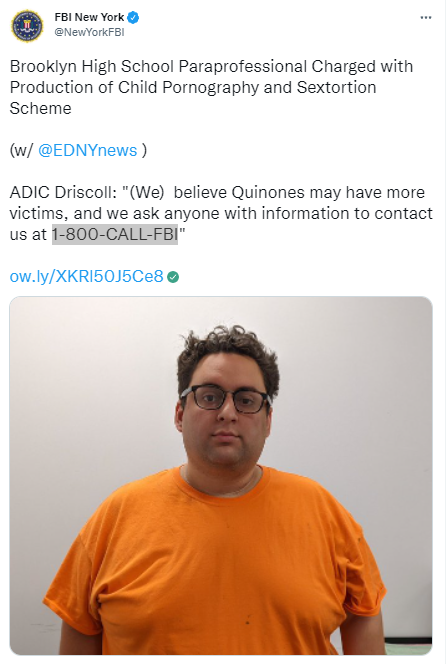 30 year old Brian Quinones, a  paraprofessional at Midwood High School in Brooklyn, NYC, has been arrested last week for cyberstalking, distribution of child phonography and sexually exploiting a minor. Quinones was working in a one-and-one capacity with special need students.
Quinones preyed on his victims on the internet. He would pose as a woman to lure minor boys into sending him explicit content videos. He would then black mail his victims and threaten to put the video on the internet if they were not sending him more content.
After it was found that between 2019 and 2020, Quinones had been exchanging more than 100 files containing child phonography material with another individual who was also charged with child phonography offenses, the FBI was allowed by the court to search the apartment of  Quinones and sized his electronic equipment. They  recovered explicit WhatsApp messages between Quinones and a boy who was 15 year old. Quinones was pretending to be a woman and was threatening the young victim to ruin his life if he was not sending him more explicit content. When the boy refused Quinones replied "I'm ready to make u famous[.] Any last words?".
The Department of Education announced that they had removed Quinones away from children and that they would terminate him if convicted.
Quinones face a minimum sentence of 15 years in prison if convicted.
This horrifying story is a reminder for parents to keep vigilant on their children's communication over the internet. When children get trapped in such situation, they fear reporting to an adult because they believe their abuser and they feel extremely embarrassed and humiliated.
The FBI published a picture of the sexual abuser and indicated that they believed that Quinones might have more victims.   Anyone with information can call 1-800-CALL-FBI
Read more in the NY Post