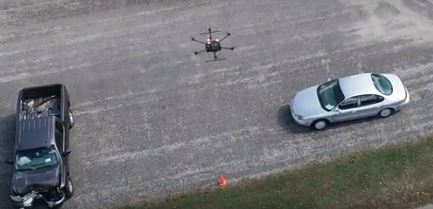 Secondary traffic accidents are accidents that occur after a first accident mostly because the traffic conditions changed. When  a car accident occurs,  the road may be blocked for a significant time so that police can proprely assess the accident scene. As a result traffic conditions quickly change, with congestion increasing the risk of additional collisions especially rear-end crashes.  Studies show that secondary crashes go up by a factor of almost 24 when highway safety officials are assessing an accident scene.
REDUCED RISK OF TRAFFIC ACCIDENT
To try to speed up the assessment process, Engineers at Purdue University teamed up with the Tippecanoe County Sheriff's Office to study how drones could help in assessing car accident scenes. They found that drones can significantly reduce the time to assess a crash scene. A drone can typically assess a crash scene in 5 to 8 minutes. As a result safety improves for everybody involved,  from officers securing and assessing the scene of the accident to emergency responders assisting the victims and regular road users stuck in the traffic congestion created by the accident. The faster the road is back to normal conditions, the safest it is for everybody.