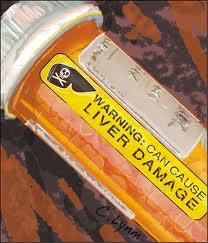 Severe personal injury and even death may result from taking too much acetaminophen. Inadvertent acetaminophen overdose may severely damage the liver and can lead to liver failure, liver transplant and death.
Acetaminophen is used over the counter as a pain and fever medication and is often an ingredient in cold and cough medicine. It is also combined with ingredients to treat pain such as opioids and prescribed by doctors. Many consumers are not aware that their medicine contains acetaminophen, making it easy to accidentally take too much. Prescription narcotics which contain acetaminophen include Tylenol with Codeine, Percocet, and Vicodin. Depending on the milligrams of the narcotic the particular drug may contain as much as 650 Mg. of acetaminophen. Patients should read the label as well as the package insert given with the prescription. Further alcohol should not be used as it is well known that in combination with acetaminophen liver toxicity may result.
To prevent these types of adverse results and to reduce the number of acetaminophen induced liver injuries, the FDA recommends that doctors not prescribe any medication that contains more than 325 mg per dose. The FDA also recommends that pharmacists call doctors and discuss options with them if they receive a prescription for a combination product with more than 325 mg of acetaminophen per dosage unit.