Tiktok Kia challenge causes 4 NY teens to die and 2 to suffer injury in car crash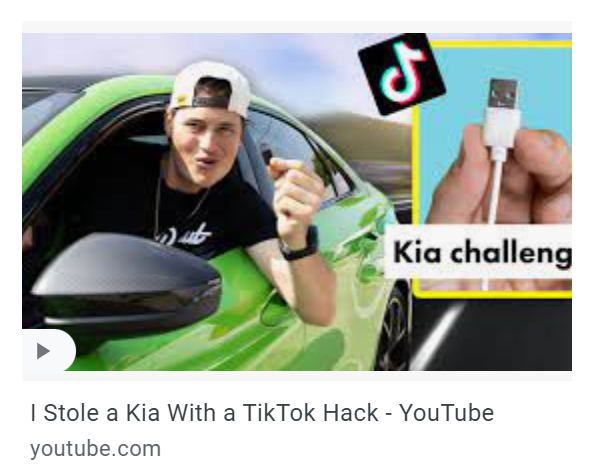 An ongoing "Kia Challenge" instructing Tiktok followers on how to steal Kia or Hyundai cars with a USB charging cord and encouraging users to post videos of their joy rides caused the deaths of 4 teenagers in Buffalo, NY.
19 year old Marcus Webster, 17 year old Swazine Swindel, 16 year old Kevin Payne and 14 year old Ahjanae Harper were passengers in a stolen Kia driven by a 16 year old boy who lost control of the car and crashed it. The four of them  died in the crash. Harper had just gave given birth to a baby daughter. The driver and another 15 year old passenger survived the accident.
The young driver has been charged with criminal possession of stolen property and unauthorized used of a vehicle. He is due to appear in court in November.
The Kia challenge emerged last July and has encouraged TikTok users to steal a Kia or a Hyundai by taking advantage of a vulnerability in the car that allows users to bypass the ignition and use a USB cable to start the car. TikTok users who are participating to this challenge are nicknamed "Kia boys" and are encouraged to film their joy rides and  dump or crash the stolen car.
This challenge has lead to an increase in Kia and Hyundai car thefts and robberies. Buffalo Police Commissioner Joseph Gramaglia  confirmed that the Buffalo authorities have seen an increase in Kia and Hyundai thefts since the challenge started.
Stealing a car for a social media stunt not only can have deadly consequences but is also considered grand theft which can be a felony in some jurisdiction.
Kia released a statement mourning the death of the teenagers and indicating that they would provide steering wheel locks at no cost for all owners of steel key-operated cars. The concerned vehicles are those equipped with smart key technology which include standards and all 2022 Kia vehicles. Owners can call Kia customer service at  1-800-333-4542.