Today is Melanoma Monday and May is skin cancer awareness month; where to get a free skin cancer screening in New York?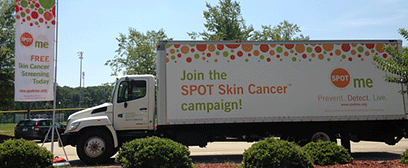 Failure to diagnose skin cancer at an early stage can have deadly consequences.  People living in New York  will have plenty of opportunities to get a free skin cancer screening during the month of May which is National Skin Cancer Awareness Month.
Malignant Melanoma is the fastest growing cancer for men, and the second fastest growing cancer for women. If it is detected early when it hasn't spread to the lymph nodes, the survival rate is 98%.  A yearly annual skin exam performed by a physician offers the best chance of an early diagnosis. Self-exams should also be performed every month. If you notice a change in an existing mole or discover a new one that look suspicious you should show it to a physician immediately.
Here is a list of places where you can get free skin cancer screenings in New York in May and June. For other States click here.
May 7th
Memorial Sloan Kettering Cancer Center, Dermatology Service, New York, NY, Screening hours: 4:00 PM – 7:00 PM, Appointment Required at 1 -646 -888-6410
Mount Sinai St. Luke's, New York, NY, Ingrid Sanabria Gonzalez, 1 -212 -523-3812, Screening hours: 3:00 PM – 6:30 PM, Walk-Ins Welcomed
NYU Skin and Cancer Unit, New York, NY,  Engelbert Morales 1 -212 -263-5256, Screening hours: 1:30 PM – 5:00 PM, Walk-Ins Welcomed
Franklin Hospital/Pain Management Department, Helen White, Valley Stream, NY, Screening hours: 5:00 PM – 7:00 PM, Appointment Required at 1 -516 -256-6461
May 9th
Target, 838 Sunrise Hwy, Bay Shore, NY, Screening hours: 11:00 AM – 3:00 PM, Walk-Ins Welcomed
Target, 815 E. Hutchinson River, Bronx, NY, Screening hours: 11:00 AM – 3:00 PM, Walk-Ins Welcomed
Target, 999 Corporate Dr., Westbury, NY, Screening hours: 11:00 AM – 3:00 PM, Walk-Ins Welcomed
Target, 2873 Richmond Ave, Staten Island, NY, Screening hours: 11:00 AM – 3:00 PM, Walk-Ins Welcomed
Target, Target, 5750 Sunrise Hwy., Sayville, NY, Screening hours: 11:00 AM – 3:00 PM, Walk-Ins Welcomed
May 14th
Hudson Valley Hospital Center/Cancer Center, Tameka Walker, Cortlandt Manor, NY, Screening hours: 4:00 PM – 8:00 PM, Appointment Required at 1 -914 -293-8474
May 15th
Weill Cornell Medical College, Free Skin Cancer Screening Event Open to Employees & The Public Adults 18+
Bobby Buka, MD, New York, NY, Ercan Akturk, Screening hours: 9:00 AM – 12:00 PM,  Appointment Required at 1 -212 -385-3700
May 20
Mount Sinai St. Luke's, New York, NY, Ingrid Sanabria Gonzalez, 1 -212 -523-3812, Screening hours: 5:30 PM – 8:00 PM, Walk-Ins Welcomed
May 29th
Office of Dr. David L. Cohen, Hewlett, NY, 

Screening is located at 1800 Rockaway Ave., Suite 100

Screening hours: 1:00 PM – 4:00 PM, Appointment Required at 1 -516 -887-4343

Modern Dermatology, PLLC, New York, NY, Orla McCarville, Screening hours: 9:00 AM – 11:00 AM, Appointment Required at 1 -212 -379-6477

Lourdes Dermatology, Vestal, NY, Laura Freeze, Screening hours: 11:00 AM – 3:00 PM, Walk-Ins Welcomed, 
May 30th
URMC Dermatology,  Rochester, NY, Mary Lou Williams, Screening hours: 9:00 AM – 12:00 PM Walk-Ins Welcomed, 1 -607 -251-2100
Montefiore Westchester, Scarsdale, NY, Beth McLellan, Screening hours: 9:00 AM – 12:00 PM Walk-Ins Welcomed, Appointment at 1 -718 -862-8840
June 10th
Phelps Memorial Hospital Center, Sleepy Hollow, NY, Sue Alvado, Appointment Required at 1 -914 -366-3220
June 17th
Putnam Hospital Center, Carmel, NY, Kathleen Steiger , Screening hours: 4:30 PM – 8:00 PM, Appointment Required at 1 -845 -279-5711