Two siblings killed in tragic fire caused by an e-bike battery explosion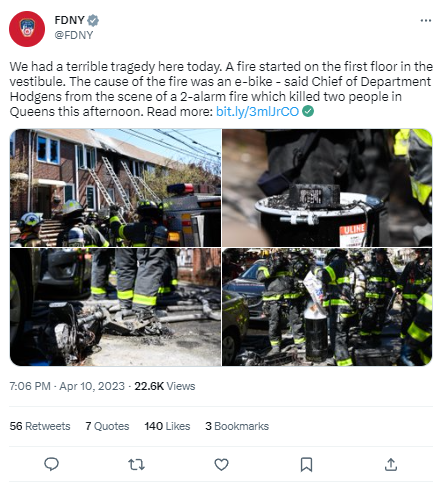 An e-bike powered by a defective lithium-ion battery caused a fatal fire in Astoria, Queens, New York City, killing two children yesterday afternoon. This tragedy has raised concerns about the safety of e-bikes and the need for stricter regulations to prevent similar incidents from happening in the future. According to reports, the e-bike was being charged in the vestibule of the home when it caught fire and caused an explosion. The victims did not have enough time to escape the intense fire that quickly traveled up the stairs to their second-floor apartment.
This incident highlights the ongoing problem of e-bike-related fires in the city. So far, there have been 59 e-bike-related fires in New York City this year, resulting in five fire-related deaths. The cause of these fires has been linked to the use of defective e-bikes lithium-ion batteries.
New action plan and and legislation
In response to these safety concerns, Mayor Eric Adams has announced a plan to address the issue and protect New Yorkers from fires caused by lithium-ion batteries. The plan, titled "Charge Safe, Ride Safe: New York City's Electric Micromobility Action Plan," focuses on four key areas. Firstly, promoting and incentivizing safe battery use, increasing education and outreach to electric micromobility users, advocating for additional federal regulation of these devices, and expanding enforcement against high-risk situations. Additionally, Mayor Adams has signed five bills into law to further regulate lithium-ion batteries sold in New York City and strengthen fire safety related to battery fires.
According to Mayor Adams, "These are convenient transportation options for New Yorkers, but faulty and illegal devices are making their way into our homes and streets, causing fires and putting lives at risk." He acknowledges that e-bikes and e-scooters are here to stay, and with this plan and these critical pieces of legislation, he hopes to ensure that they are safe for all New Yorkers to use.
The tragic incident involving the e-bike explosion highlights the need for stricter regulations to ensure the safety of electric micromobility usage in New York City. Mayor Adams' plan and recent legislation aim to promote safe battery use, increase education and outreach, and expand enforcement against high-risk situations to prevent similar tragedies from happening in the future.
Read more about the accident in the NY Daily News